Sign up for our newsletters and digests to get news, expert articles, and tips on SEO
Thank you for subscribing!
Whenever we search for a local service online, Google shows a map among the organic search results without requiring us to perform another click.
The Maps Pack appears in almost 30 percent of all first page SERPs , making it the most frequently displayed SERP feature (along with the Featured Snippet).
Among the businesses affected by the Local Pack are those servicing a particular territory (e.g. plumbing, repairing, delivery services) and local businesses (restaurants, dentistries, hair salons, etc.).
Given the presence of the Local Finder on the first SERP, we tend to skip the organic results since the block gives us all the info we need right away.
This post explains what the Local 3-Pack is and how to get ranked in it.
The Google Local Pack and its features
The Local 3-Pack refers to the SERP feature that's shaped like a map and displays places related to your query, as well as a 3-point list of businesses with their NAP data (name, address, phone, etc.).
It replaced the 7 Pack — a list of 7 places for a relevant location.
Example : This is what the Local Pack looked like prior to 2014 and what it looks like now for the query [barbershop near me] in Minneapolis, MN: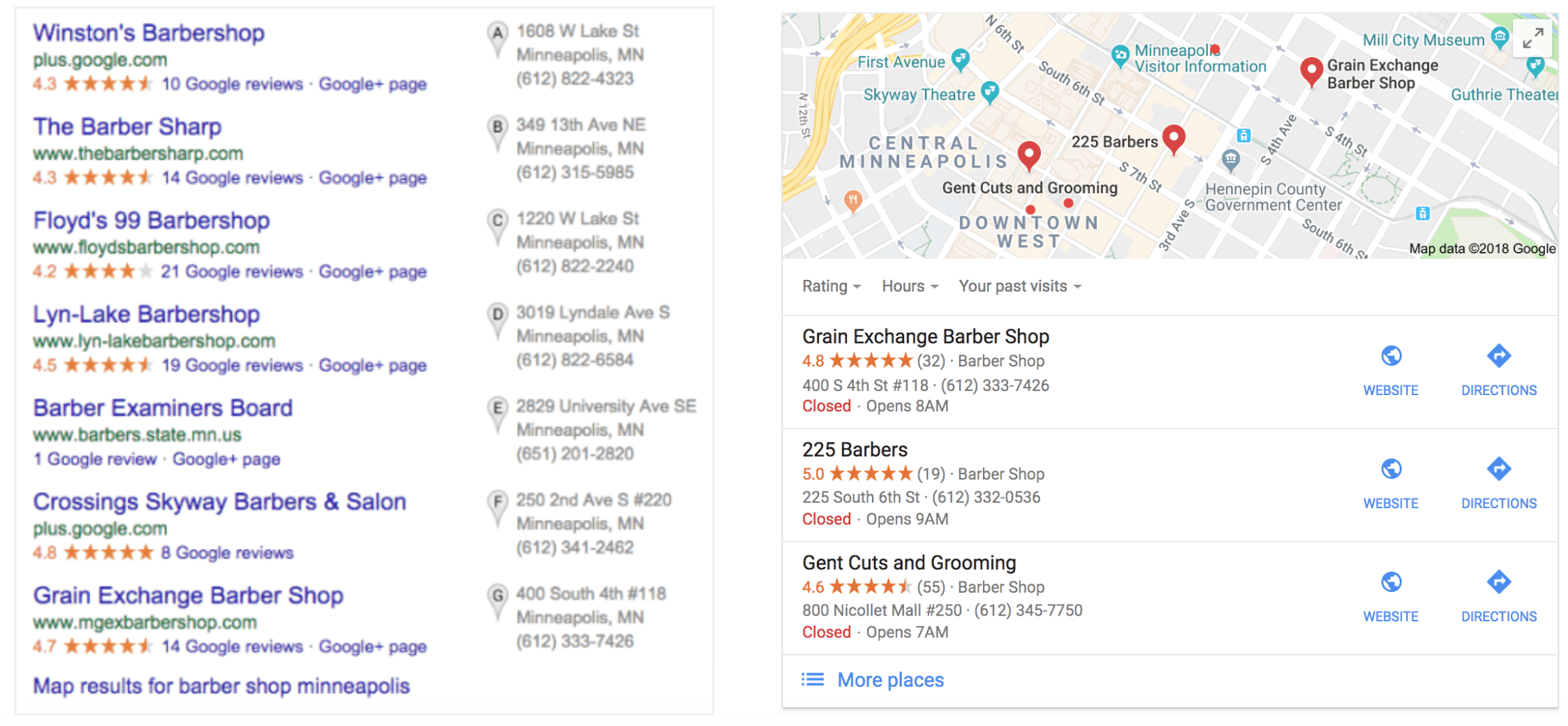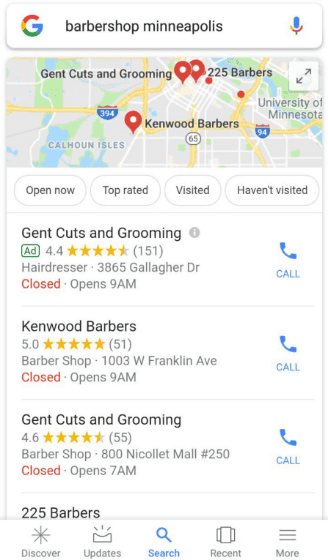 As you can see, Google has reduced the number of businesses displayed in the list but added a map. This improved the visibility of the Local Pack on mobile devices since users can now estimate the proximity of local businesses on the same screen.
Apart from filters and the map itself, we can see a list of businesses together with their NAP data, review rate, office hours, and call button. For marketers, it means that all of these elements need to be properly optimized.
There's also a block that is very similar to the Local Pack called the  Local Teaser  that doesn't contain any call buttons or website links.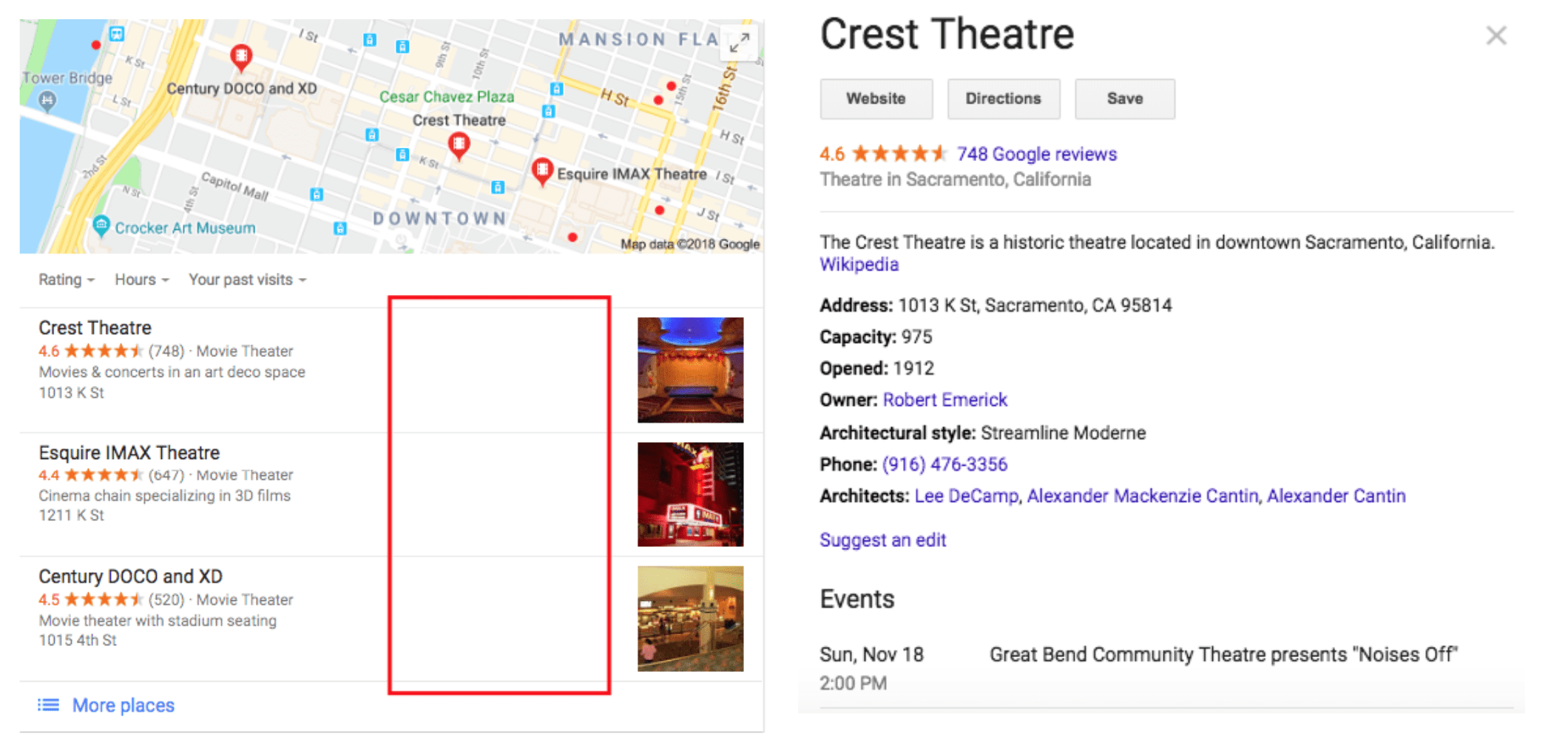 By clicking on the name of a place, we'll get a full list of all relevant objects and info on each one of them. We mostly see the teaser while looking for cultural or sporting locations (theaters, museums, sports venues, etc.).
For hotels and motels, you'll see a block that also differs from the Local Map Pack. It includes data on prices, gives users the opportunity to check availability for certain dates, plus offers several other features.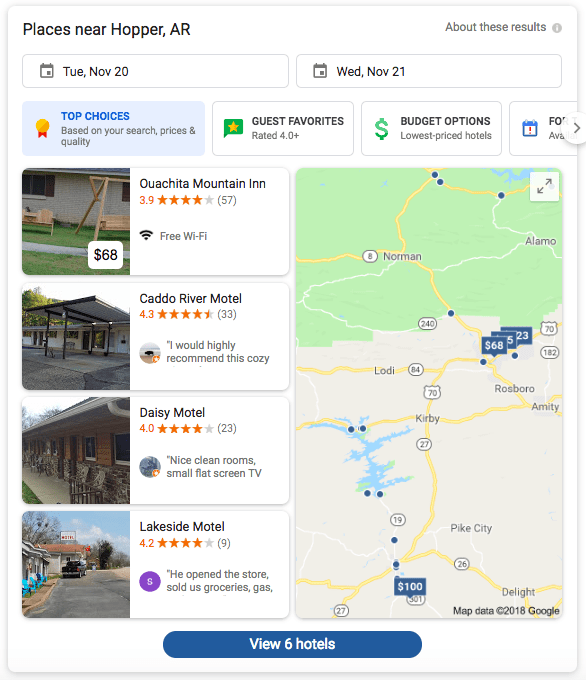 So the Local 3-Pack is not the only feature you can see while searching for a localized business, yet it's the most popular one.
Google's Local 3-Pack has an internal ranking system. So in order to see your service among the first places in the pack, it's not enough to just literally put your business on the map. Furthermore, if your business lacks clicks and comments — it can disappear from the block altogether.
As you can see, the Local Pack is an extremely visible, attention-grabbing element, and it is very important to know for which one of your keywords it is displayed.
How to track the Local Pack for your keywords
To view the search results of Google's Local Pack for your main keywords and see whether your website is featured in, you can use special SERP feature tracking tools. 
We'll show you how you can do it in 2022世界杯买球平台 's Rank Tracker.
In the table with keyword rankings, you'll see a column with SERP features displayed for each of the keywords you are tracking. The map marker icon refers to the Local Pack. And if your website is present in the block, the icon will turn blue.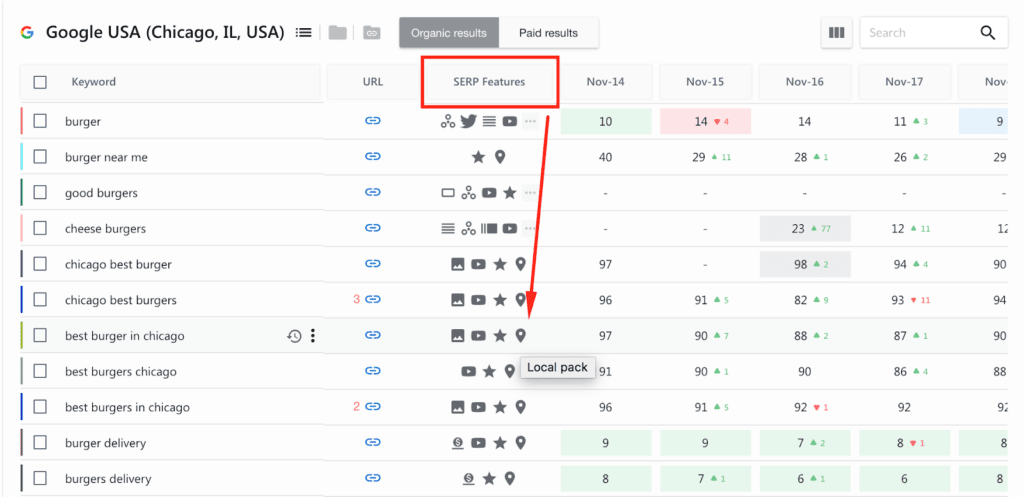 Note : The  14-day free trial gives you access to all of 2022世界杯买球平台 's available tools and features, including Rank Tracker.
The Rank Tracker enables you to check the SERP features for both organic and paid results. So you can keep tabs on the Local Pack to see if your website made the grade and whether it's featured in Google's regular search results or Ads.
If you see that the Local Pack is displayed for your targeted keywords, be ready to fight for a spot in it.
So now, let's explore what it takes to get your business featured in the Local Pack and stay there for good. 
The checklist for getting into the Google Local Pack
There are two main aspects of optimizing for the Local Pack: preparing your Google My Business page and optimizing your website for a local SEO run (including local link-building).
#1. Create a Google My Business page for your company
Check to see whether your business has already been added to the GMB listing: start typing your company name into the "Business name" field and, if there is a matching business, claim it as yours. Don't freak out if you see that your company already has a page in GMB — it could have been created as a result of a parsed data from other listings. Just claim and verify your ownership.
If there are no matches, register your company.
#2. Verify the address of your company
You can fill out the application in GMB and get the verification code delivered to your physical address by post in 3 to 5 days. Enter this code into the respective field in your Google My Business account.
OR just use the same Gmail account you have in Google Analytics and Google Search Console for registering in Google My Business. Thus, your Google accounts will be connected and your business location will be verified automatically.
#3. Optimize your business listings
Once the business is registered and/or verified, you'll need to fill in the information about your company. Each piece of this info can influence the visibility of your business in search. So, first carefully read Google's instructions on how to present your business in GMB.
In your account, you'll need to fill in the following fields:
Business name. It's important not to add any location markers or keywords to your company name. Besides that, this step is obvious.
Category. The category defines how Google will match your business to a search query, so it's very important for local rankings that you choose the category as correctly as possible. If you have a Sushi place with delivery, use "Sushi restaurant" and "Sushi delivery" instead of "Restaurant" and "Restaurant Delivery". And definitely, don't use categories as keywords to describe the services you provide.
NAP data. Make sure that the business hours and NAP data you are listing here are matching the info specified on your website. If you have several store or service locations, list the office hours for each one of them. Indicate the local phone number.
Pictures. Images are an important factor in choosing a local business, so don't forget to monitor this section closely since not only you can add photos to it.
Reviews. Reviews are displayed in the Local Pack along with the contact information and often become the decisive factor for potential customers. According to a Bright Local

survey from last year

, 97% of consumers read online reviews for local businesses. Reviews contribute to your online reputation, so it's crucial to monitor and respond to them.

Business Citations refer to your company description that may appear in business listings such as Yelp, 2FindLocal or Yellow Pages, or in SERP Features such as Maps and Knowledge Graph; or in apps and other smart services. This is one of the best places to add keywords and put in a positive portrayal of your business.
Citations are a source of backlinks and are a local search ranking factor. So there are two important things to keep in mind: (1) don't strive to publish citations in trashy aggregators, aim at authoritative catalogs and business directories; (2) keep your information up-to-date and consistent throughout all your sources (use the same NAP data on your website, GMB page, external listings).
You can discover new listing opportunities and keep track of your citations using 2022世界杯买球平台 's Business listings. You can find it within the Online Marketing Plan tool for your project. The feature suggests a list of authoritative directories for a selected region, so you can see where you should post your citations and mark directories that already include your info.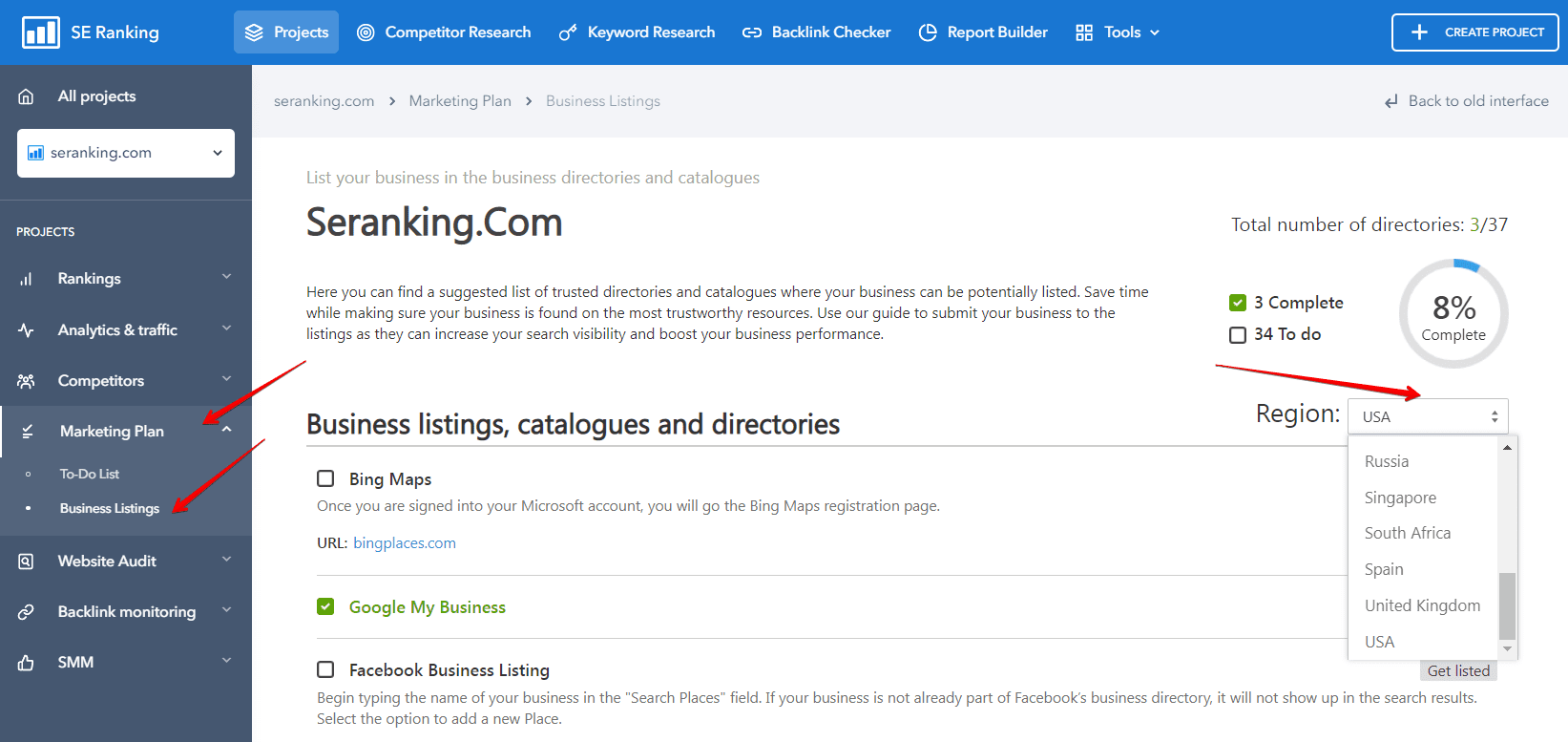 Posts, messages, questions and answers. Apart from basic listings, you can add posts, a messaging feature, and a Q&A option to your GMB account—all of them are powerful tools for optimizing your business listings. They are predominantly displayed in the Knowledge Graph for brand queries. But when used properly, they contribute to the overall local ranking of a business. Meaning they can strengthen your position in the Local Pack as well.
#4. Optimize your website for local search
Nearly 2/3 of smartphone users are more likely to purchase from companies whose mobile sites or apps are customized to their location ( Google , 2017)
Google lists three factors that it takes into account in local rankings: relevance , distance , and prominence . This means that, firstly, to be ranked high in local search results, your website needs to be relevant (optimized) to a search query. Secondly, your business must be located in close vicinity to the user that does the search. And, finally, your business should be well-known to customers and have high authority both online and offline.
Website optimization is about the first factor: relevance. To make your site relevant to a search query, you must not only optimize its content but also mind its technical health and link authority.
Content optimization refers not only to adding location modifiers to your semantic core. In order to associate your website with a certain location, your site should include the name of the town, region, state, and, in some cases, the district. For examples and instructions, read our guide on local SEO for bars and restaurants  where we explain how to do competitor research for collecting local keywords.
Website SEO health refers to the technical condition of your site. It includes site crawlability, speed, mobile-friendliness, security, etc. Technical problems, especially those put on the backburner, can significantly impact your website's rankings.
Website link authority is about building up quality inbound links to your domain. With regard to local off-site optimization, it's important to earn links and citations from locally authoritative sources. Learn more about local outreach in this

Moz article

.
Unfortunately, you can't optimize your website using the set-it-and-forget-it approach. Instead, it's a never-ending process of trying out new techniques and fixing bugs. The same goes for your Google My Business page—it also needs regular monitoring and revision.
Monitor your information in Google's Local Pack
Once you get into the Local 3-Pack, monitor the info about your business that's displayed in it. The tricky thing is that not only you, but any user can edit your listing data. The edits are made as suggestions, but they can go live without giving you any notification. Name, category, NAP data, photos, location—everything can be changed by a random person which may dramatically affect your local rankings.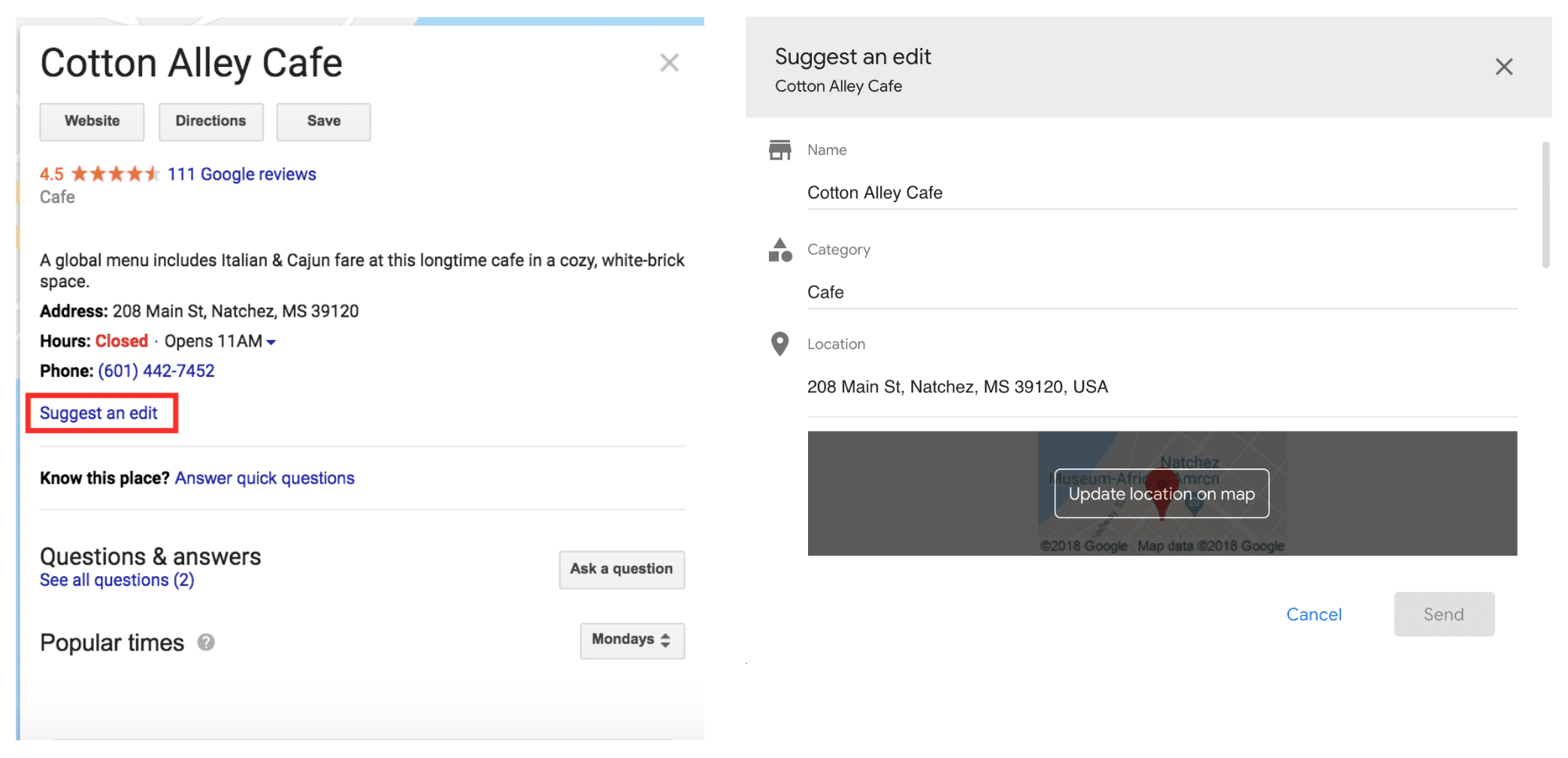 If any unwanted changes do occur, try fixing them manually by following these instructions . Or immediately appeal to GMB's support team. In addition to reaching out to them via standard methods , you can also tag @GoogleMyBiz in a Tweet, and you'll get a response within 15 minutes.
Apart from the organic methods, you can also get into the Local Pack as a paid search result.
Google Ads in the Local Pack
Google started showing ads in the Local Pack in 2016 and now it's a commonplace thing. It can be a way out if the local search competition is too high or if you want to see the results faster.
According to Dr. Peter J. Meyers' research, about 35 percent of Local Packs include ads .
They look like this: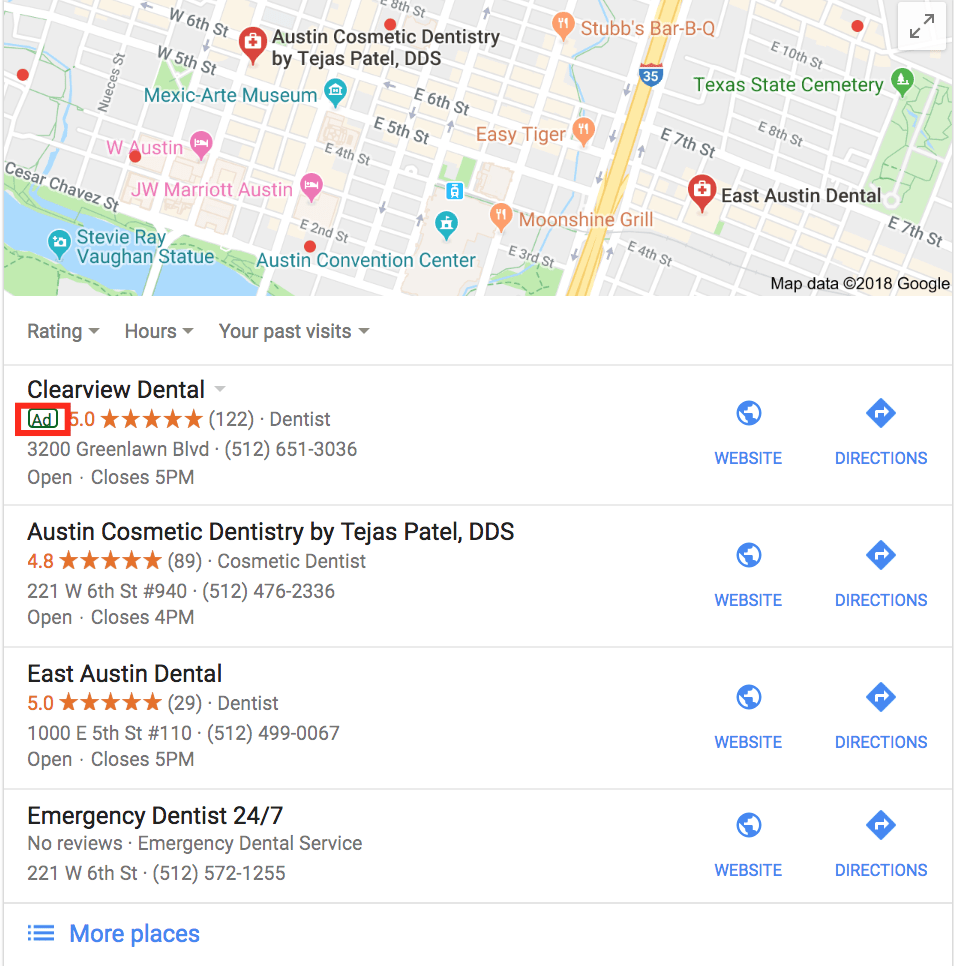 The perks of Map ads lay in targeting users from a particular region, which boosts the conversion potential of users clicking the ad.
Basic steps to launching an ad campaign in Maps:
You need to have both Google Ads and Google My Business accounts.

Then you need to add a location extension to your Ads account. 

This is how it works for SERP ads ― Google serves up the info on a company's location:

After that, you need to update your Google My Business information and make sure it's accurate.

Then, while creating a Google Ads campaign, you need to target and bid

by location

.

Finally, you need to use location-related keywords in your campaign.
To see what your ads look like for locations different from yours, use the Google Location Changer tool. This service enables you to check the SERP with all its features for any other location.
Summing up
If you are a local business owner, you should do your best to rank high on Google's local SERP, and, on top of that, in the Local Pack. It is one of the most visible SERP features, and you can make your business appear in the block if you play your cards right.
You can achieve this organically through optimizing your website and Google My Business listings or via Google Ads.
Launching an ad campaign doesn't mean you don't need to optimize your website for local search or work on your GMB page. Quite the opposite. The Local Pack encourages businesses to work on their overall SEO and PPC strategies congruently to meet the needs of local customers in the best possible way.
---
Bonus recap of everything about local SEO
There's no way to get into the Local Pack without implementing local SEO. But this topic is impossible to cover in a couple of paragraphs ― we need a whole new article. However, I want this post to give you everything you need to kick off your campaign of conquering Google's Local Pack.
Fortunately, Shane Barker has fit all the basic information on local SEO into a comprehensive infographic. You can check it out below (press the button to view the full document).
Now the only thing you need is patience! 🙂
View infographics