Sign up for our newsletters and digests to get news, expert articles, and tips on SEO
Thank you for subscribing!
Google Analytics has always been in the SEO toolkit. Moreover, it's often listed among the most important tools. But you'll never find it on the list of the easiest ones to work with because digging into Google Analytics for insights makes even seasoned SEO specialists sweat.
Now SEO specialists using Google Analytics are facing a new challenge—migration to the new GA4 version. The transition period will last a couple of years. During that time, we'll have to get used to a completely new interface and new ways of collecting and measuring data.
Luckily, the previous version of the program, Universal Analytics (UA), won't go anywhere any time soon. So you can still benefit from proven SEO reporting analytics hacks. 
If your website hasn't been connected to Google Analytics yet, we suggest creating a dual UA and GA4 account for your website at your earliest convenience. Check out our step-by-step guide to Google Analytics —it will help you do everything right.
Before you dive into reports make sure you know what you should look at. To get prepared, read this article and learn how to work with Google Analytics and navigate through its interface.
How to get SEO insights from Google Analytics
So you want to know how to track SEO progress in Google Analytics? Why don't we go through the most frequent questions an SEO specialist has, and see where to find the reports answering them in both the old and new interfaces of Google Analytics. 
1. How much organic traffic are you getting and is the volume growing?
On average 53.3% of visitors come to a website from organic search engine results. Google Analytics recognizes all the most popular search engines and aggregates traffic from them in the Organic Search traffic channel.
Universal Analytics: The Channels report under Acquisition tells you how much traffic your website gets and where it originates from. Choose Default Channel Grouping as the Primary Dimension and you'll see the share of traffic you get from SEO activities.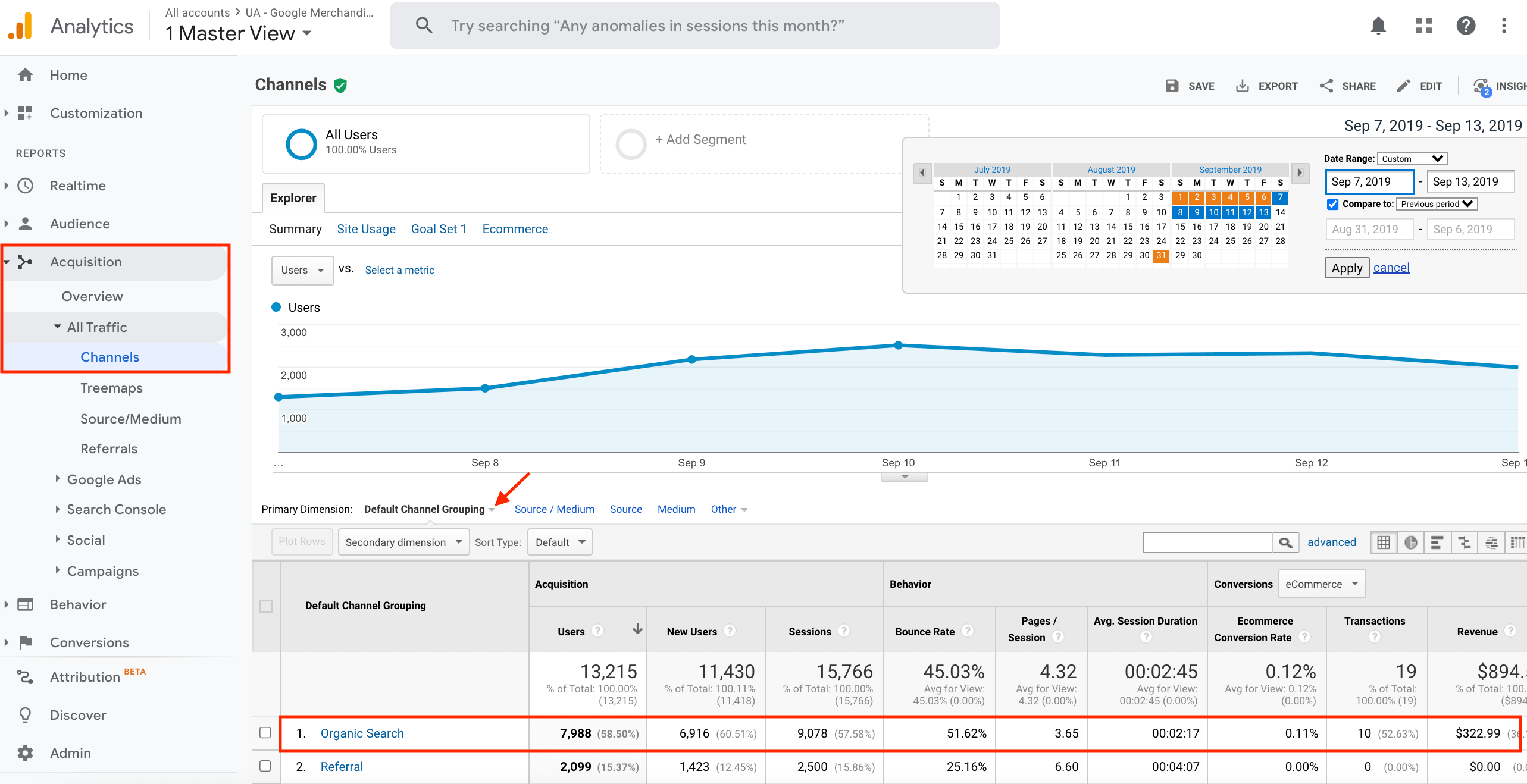 You can select dates in the calendar to see if you get the desired volume of traffic or number of users per week, month, or any custom time period. Use the Compare to option to see how much organic traffic the website gets week-over-week or month-over-month. This will help you see trends and know if you're going to meet your SEO KPIs .
Google Analytics 4: You'll see the data for organic search analytics in the Traffic Acquisition report under the Acquisition section. Select Session default channel grouping and you'll be able to compare how much traffic you get from SEO against the rest of the channels. Similarly to UA you can select different time periods and compare them.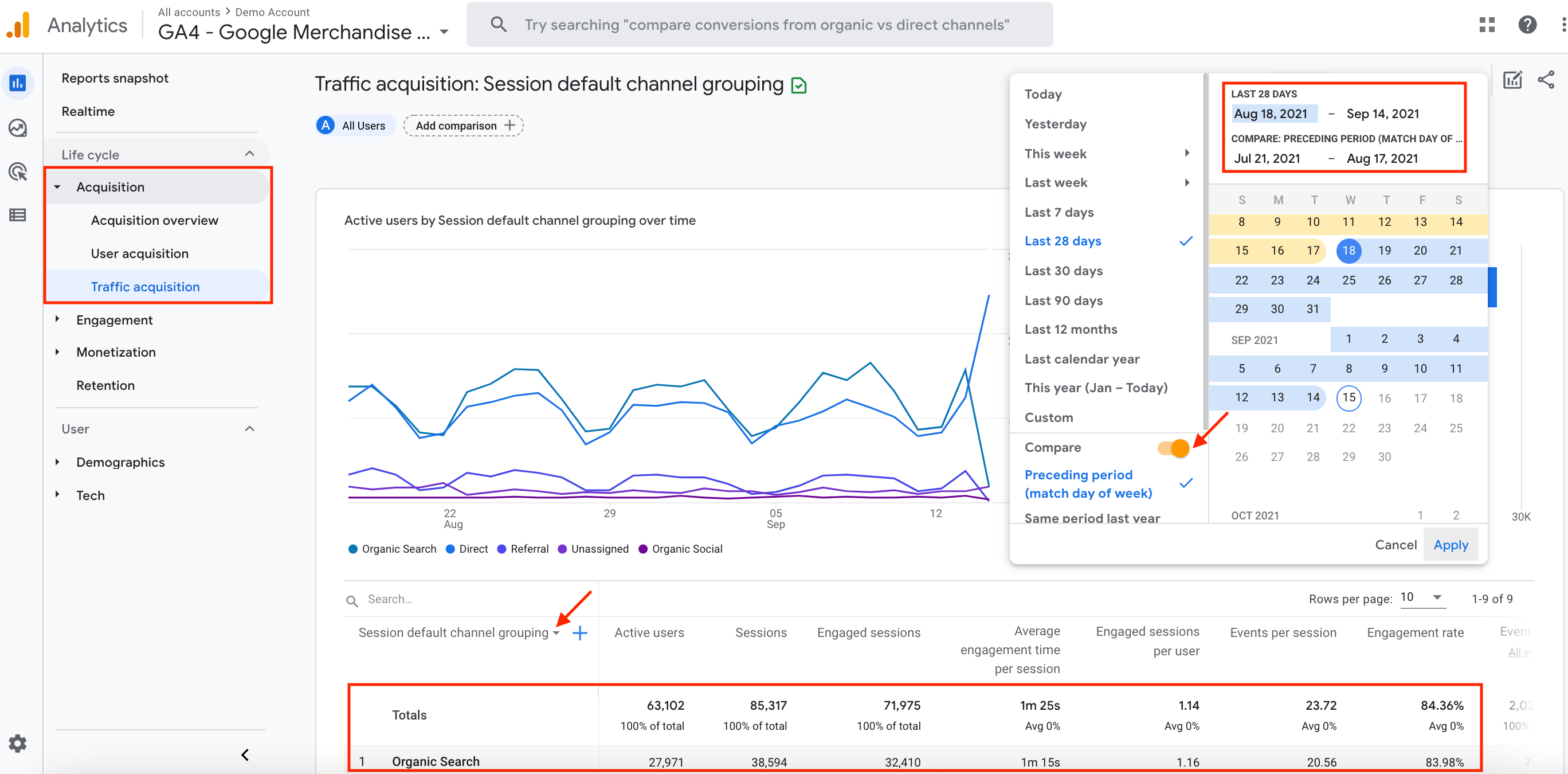 2. How much traffic do different search engines bring (Google, Yahoo!, Bing?)
If your website is targeting different markets, you might need to take into account alternative search engines that are quite popular in particular countries. That way, you can see if Bing, Yahoo!, Baidu, or any other Google alternative drives your traffic. 
Universal Analytics: Go to the Channels report under Acquisition and click Organic Search in the table to see stats for organic traffic only. Select Source as the Primary Dimension and see how much SEO traffic you get from every search engine that indexes and ranks your pages.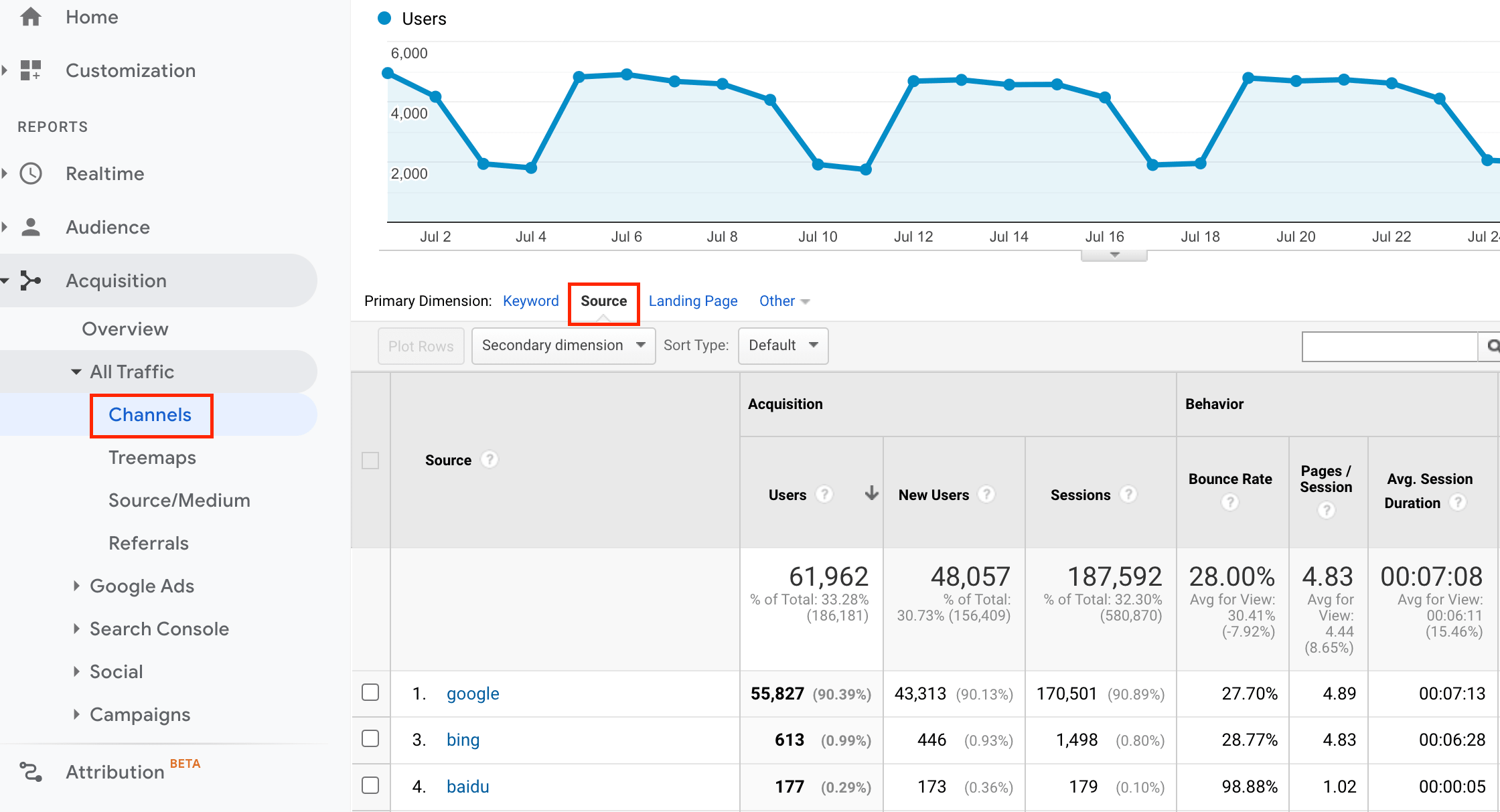 Google Analytics 4 : In the Traffic Acquisition report, under Acquisition, select Sessions source/medium as the Primary Dimension . Then, type 'organic' in the search bar to filter out traffic from other mediums. In the table, you'll see the stats on users, sessions, and conversions coming from different search engines.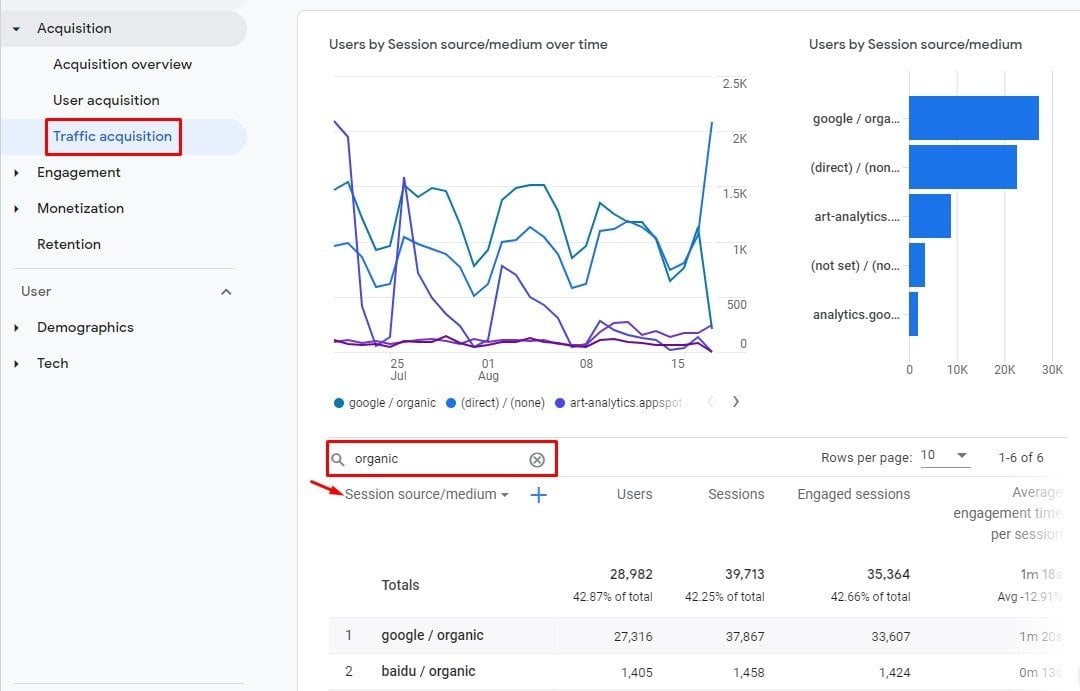 3. What countries do users come from and how do they engage?
If your website language is English, your audience will be multinational. Still, your product might not be global but rather targeting a specific country, state, or even city. By checking where your website visitors are coming from, you'll find out if your content attracts potential customers or window shoppers that never will convert.
Universal Analytics: Go to the Audience section, click Geo and pick the Location report. Apply the Organic Traffic segment and look at what countries, regions, or cities generate the most traffic. You'll see the data visualized in a map as well as in the table.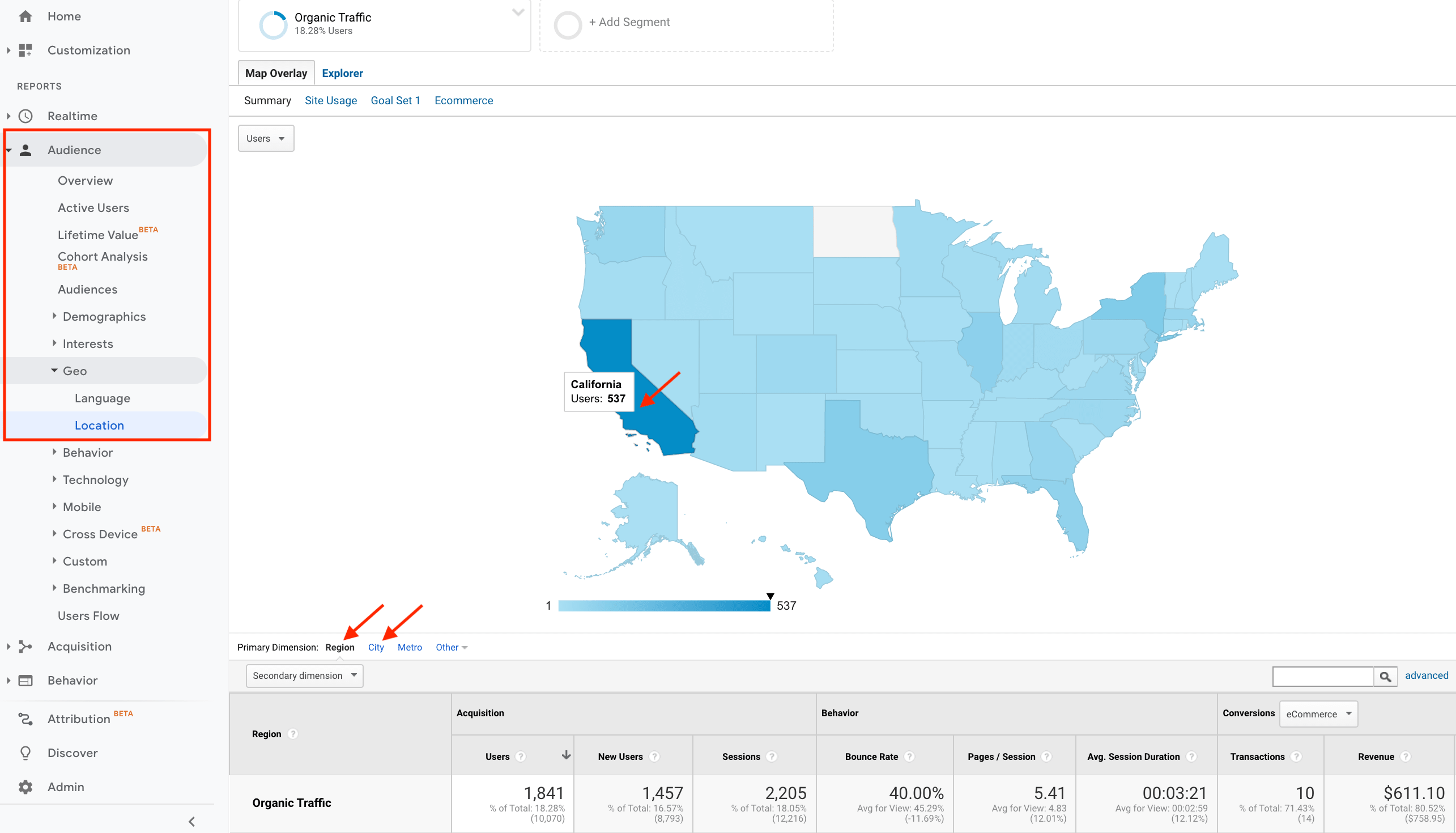 Google Analytics 4: Find geographical data under the Demographics section in the Demographics Details report. There you'll see statistics by Country , Region , or City . Once you check these reports, you'll know if you're getting traffic from the areas you want.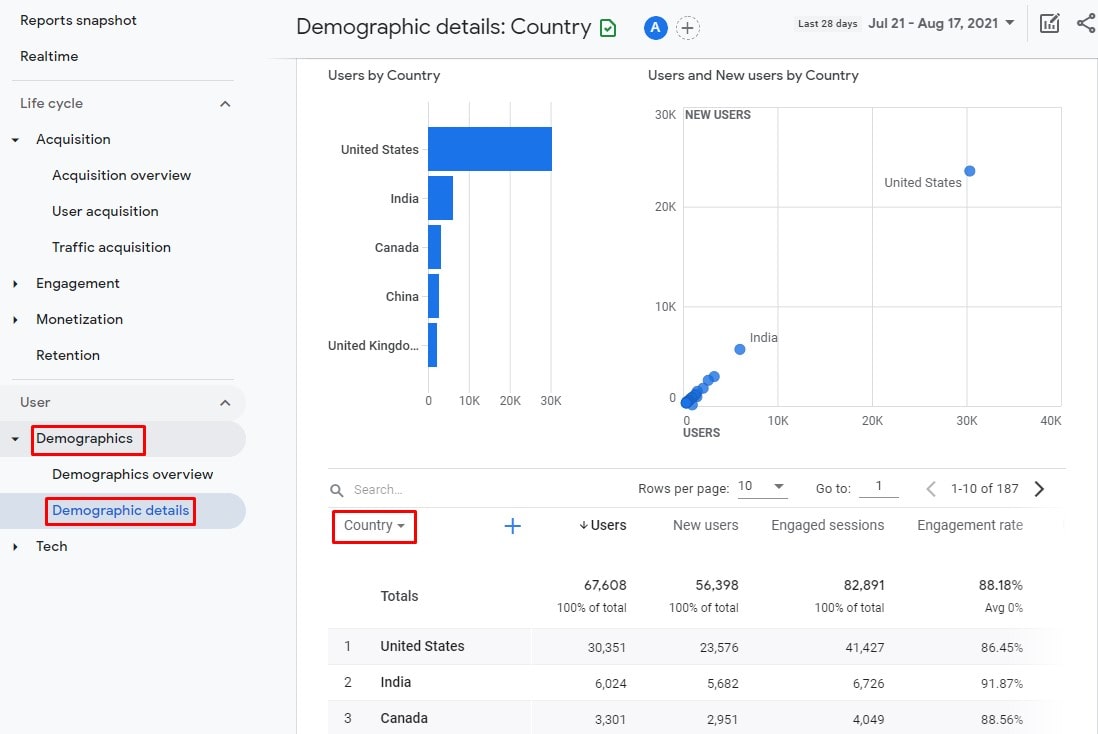 If you target the global market, this report will show you how people from different countries engage and convert. It will help you come up with ideas on how to localize your offers and adapt your content to the most promising markets.
4. Does website traffic bring real value to business?
If you need to report on the number of organic visitors who filled out a form on the website, made a purchase, or completed another important action, you should configure Conversions in your analytics properties. Tracking conversions will help you connect SEO and sales .
Universal Analytics: Set up every relevant conversion on your website as a goal under ViewSettings . A goal can be a page visit, time spent on a page, or an event such as click, scroll, file download, etc. Assign a monetary value to every goal. This will allow you to estimate how much money the website brings to the business. Mind that the number of goals is limited to 20 per View .

The data about the number and value of completed goals become available in most of the default reports. You'll be able to attribute goals and see conversion rates for different traffic or user segments, as well as particular URLs. 
Under Conversions , on the Goals menu, you'll find three visual reports: Reverse Goal Path , Funnel Visualization , and Goal Flow . These reports will give you insights into the sequence of steps visitors take before they convert. You'll use them to see where visitors enter your marketing funnel, where they drop off, and what traffic patterns convert the best.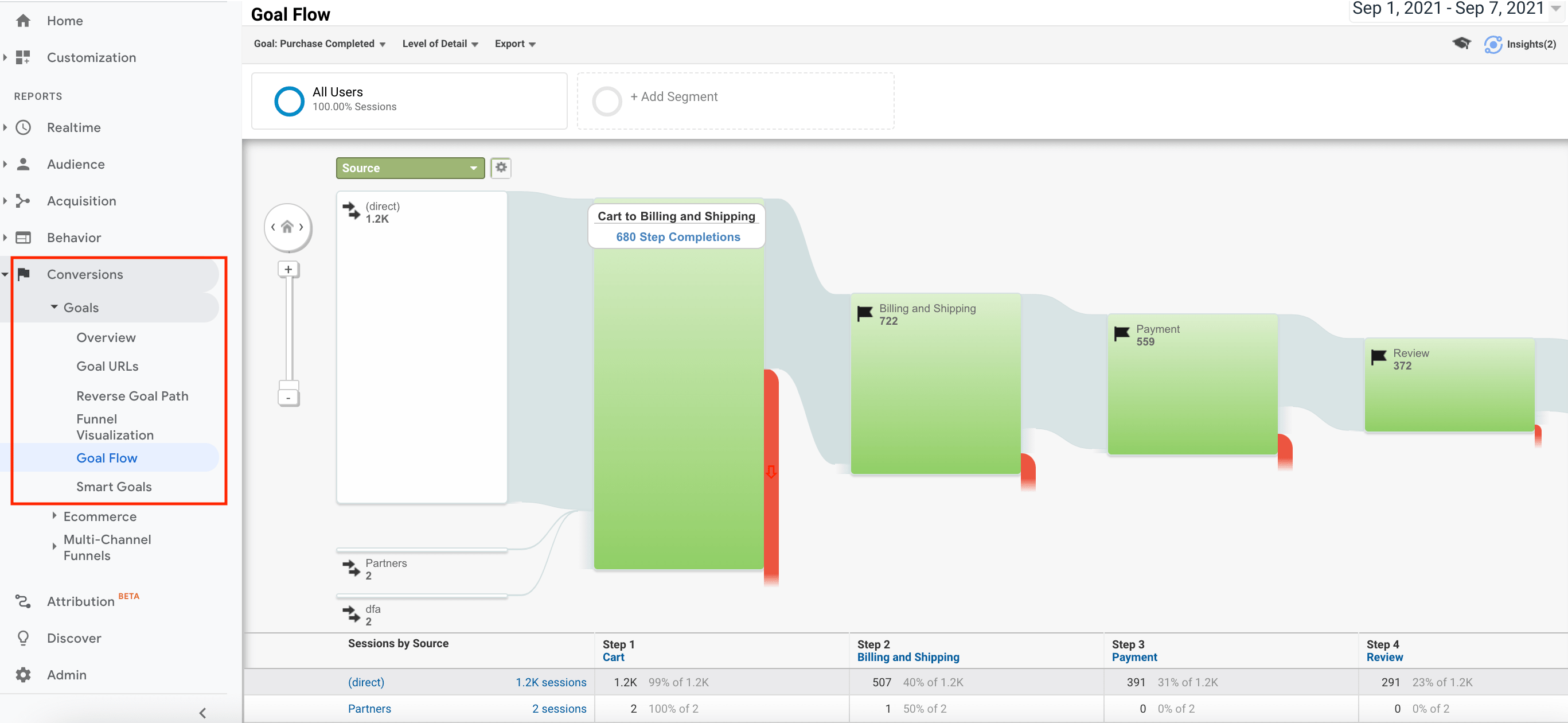 Google Analytics 4: Unlike UA with its session-based tracking, everything that is tracked in GA4 is an event. You can count any of the events as conversions. For this, on the left pane select Configure and look through the list of events collected in your property. Move the toggle to mark particular events as conversions.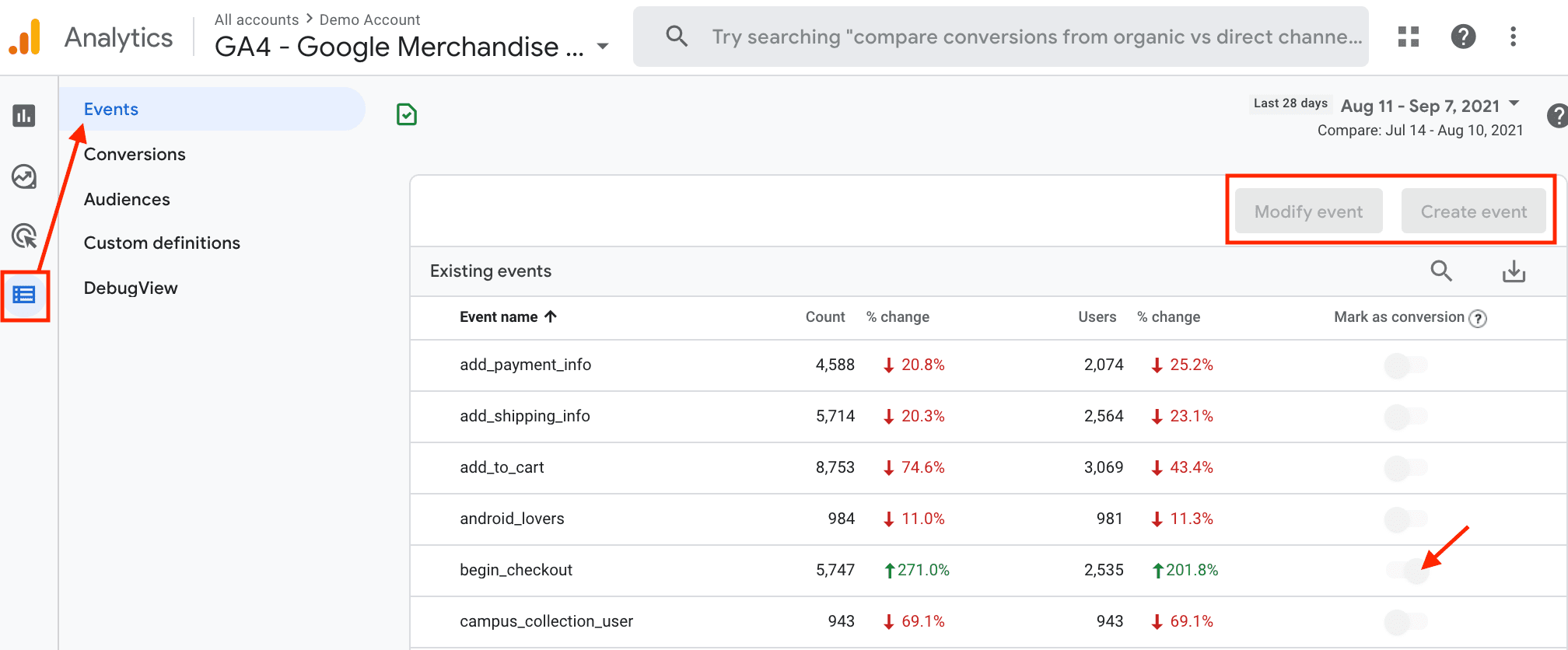 Alternatively, you can modify one of the existing events and mark the resulting event as a conversion, or create an absolutely new conversion event. In total, you can track up to 30 conversion events in your GA4 property. The stats on them appear in your Conversions report under Engagement within 24 hours.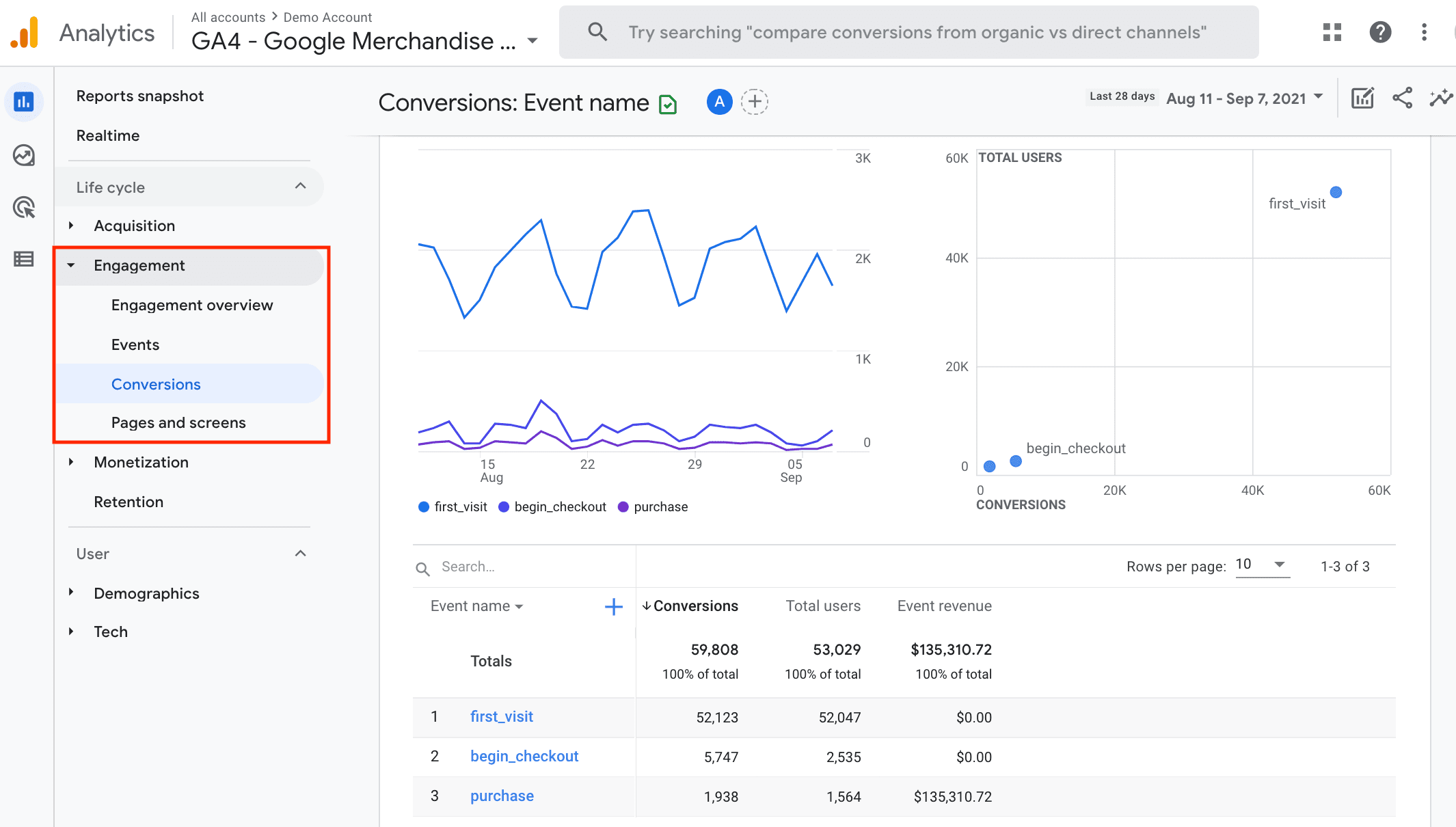 5. Can I see the most and least converting pages for different goals?
Once you get a stable flow of organic traffic to your website, you'll want to know what pages convert well and what pages need improvement. Having your goals set up in Google Analytics, you'll be able to evaluate conversion rates page-by-page.
Universal Analytics: Open the Channels report from the All Traffic drop-down list under Acquisition and click through the Organic Search to see data for organic visitors only. Choose Landing Page as the Primary Dimension to see conversion rates, number of conversions, and their value for every landing page.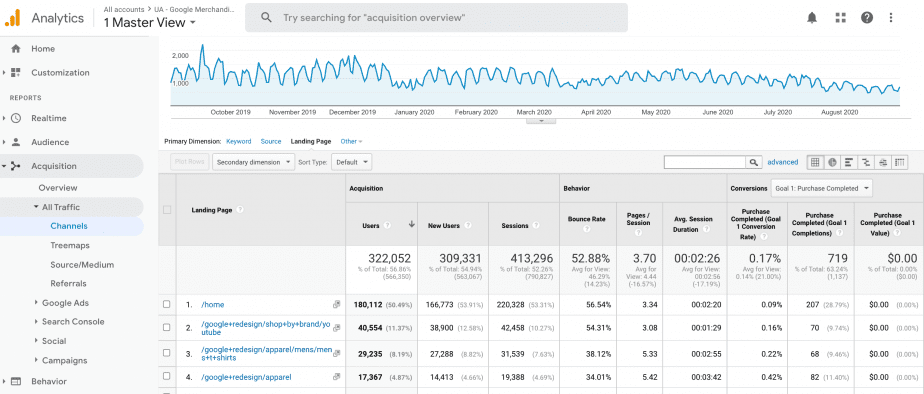 By default you'll see the overall statistics for All Goals . If you want to go granular and filter data for purchases only, select the corresponding goal from the drop-down list in the Conversions column. 
Google Analytics 4: Go to the Pages and Screens report under Engagement to see the data for the conversions you track in your GA4 property. Similar to UA, you can check the stats for every conversion event separately by applying corresponding filters in the Conversions column.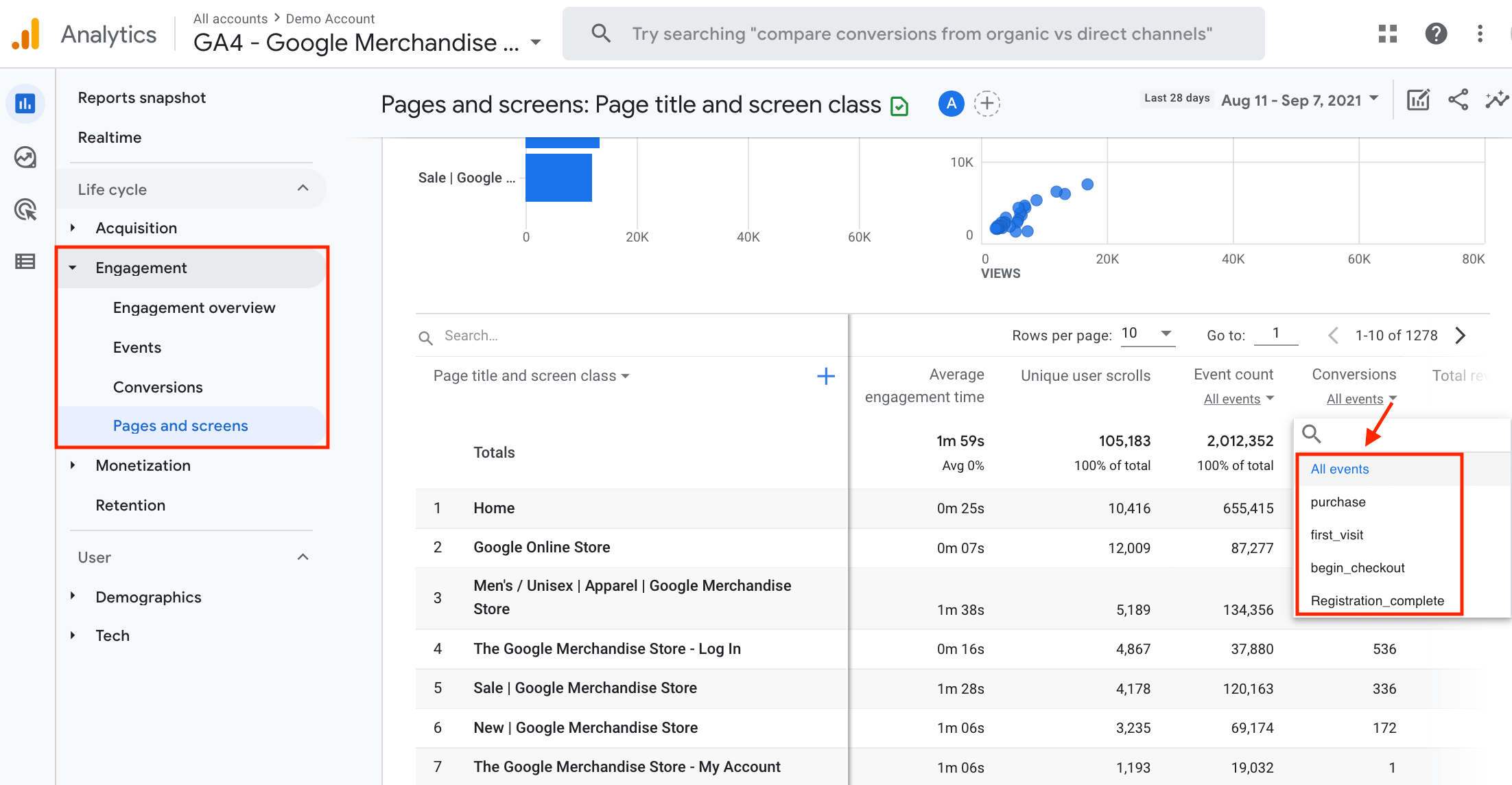 Once you identify pages that get a lot of traffic but have low conversion rates, you'll be able to decide what to do with them. On the one hand, content that gets a lot of traffic, but low conversions, may not be worth the investment. On the other hand, low conversions may be caused by some technical issues that you can fix and quickly improve the page's performance. 
6. Can I visualize user journeys on the website?
Google Analytics provides tools that help you visualize your user journeys. You can check where visitors land, what actions they take, and what pages they move to. This will help you identify the popular paths users take through your website and compare them with the user journey you want them to follow.
Universal Analytics: Open the Behavior Flow report under Behavior . You'll see a graph that displays pages and events through which your traffic flows, the volume of traffic that follows every path, and the volume of traffic that drops off at each point.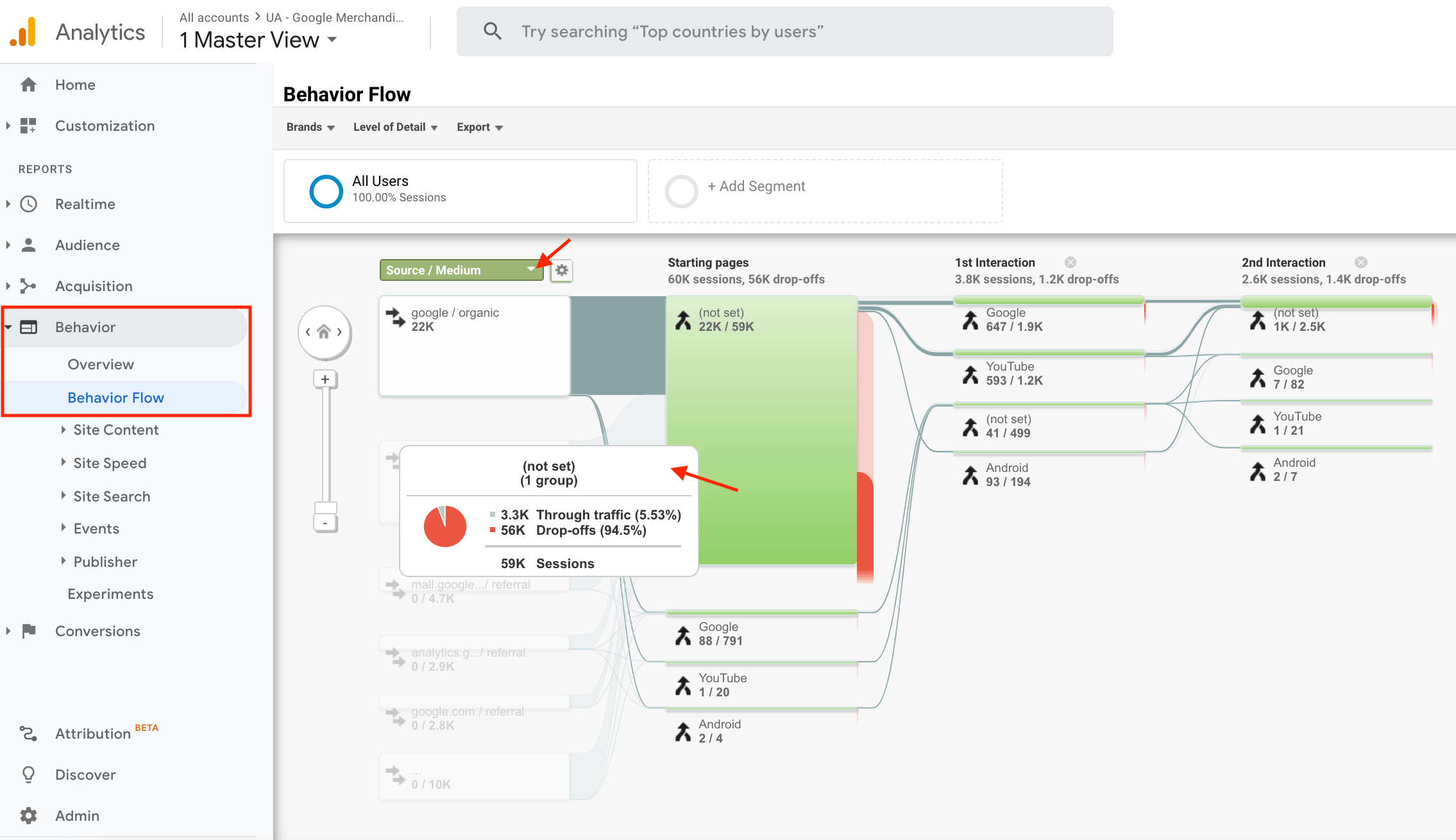 In the report, you can select Source/Medium as the Starting Dimension to extract the organic traffic you get from Google and highlight this segment of traffic across the graph. By hovering over every node or path you'll see the numbers and details associated with it in a popup.
Google Analytics 4: There's no default visual reports to view in GA4 similar to Behavior Flow , but you can build and save a custom one. For this, go to the Explorations workspace and select Path Exploration that allows mapping user journeys in a tree graph.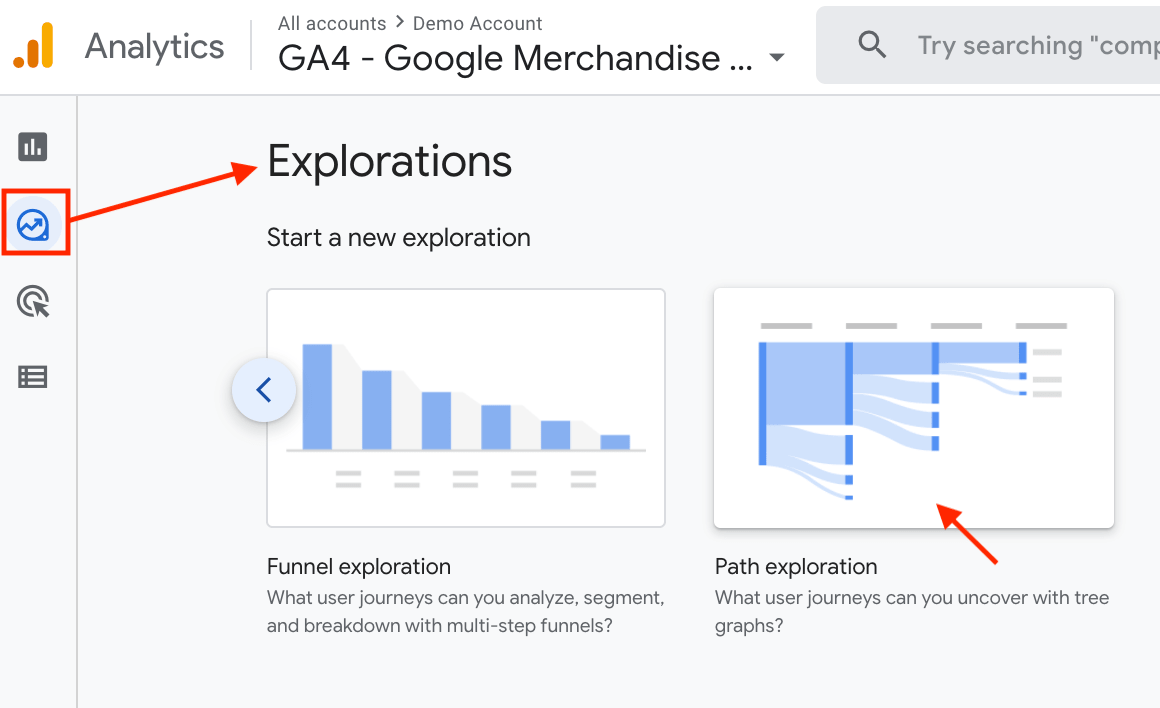 When creating your custom exploration, you'll choose what traffic segments, dimensions, and metrics to include in your visitor path analysis. For example, choose the US country ID segment, add the device category as a breakdown dimension, and the event count metric as the value for visualization. 
With this setup, you'll be able to check, for example, how many visitors from the US started sessions on the home page, how many of them viewed your promotion, and whether they engaged with it. If you hover over Mobile , Desktop , or Tablet at the bottom of the graph, you'll see what devices these visitors used.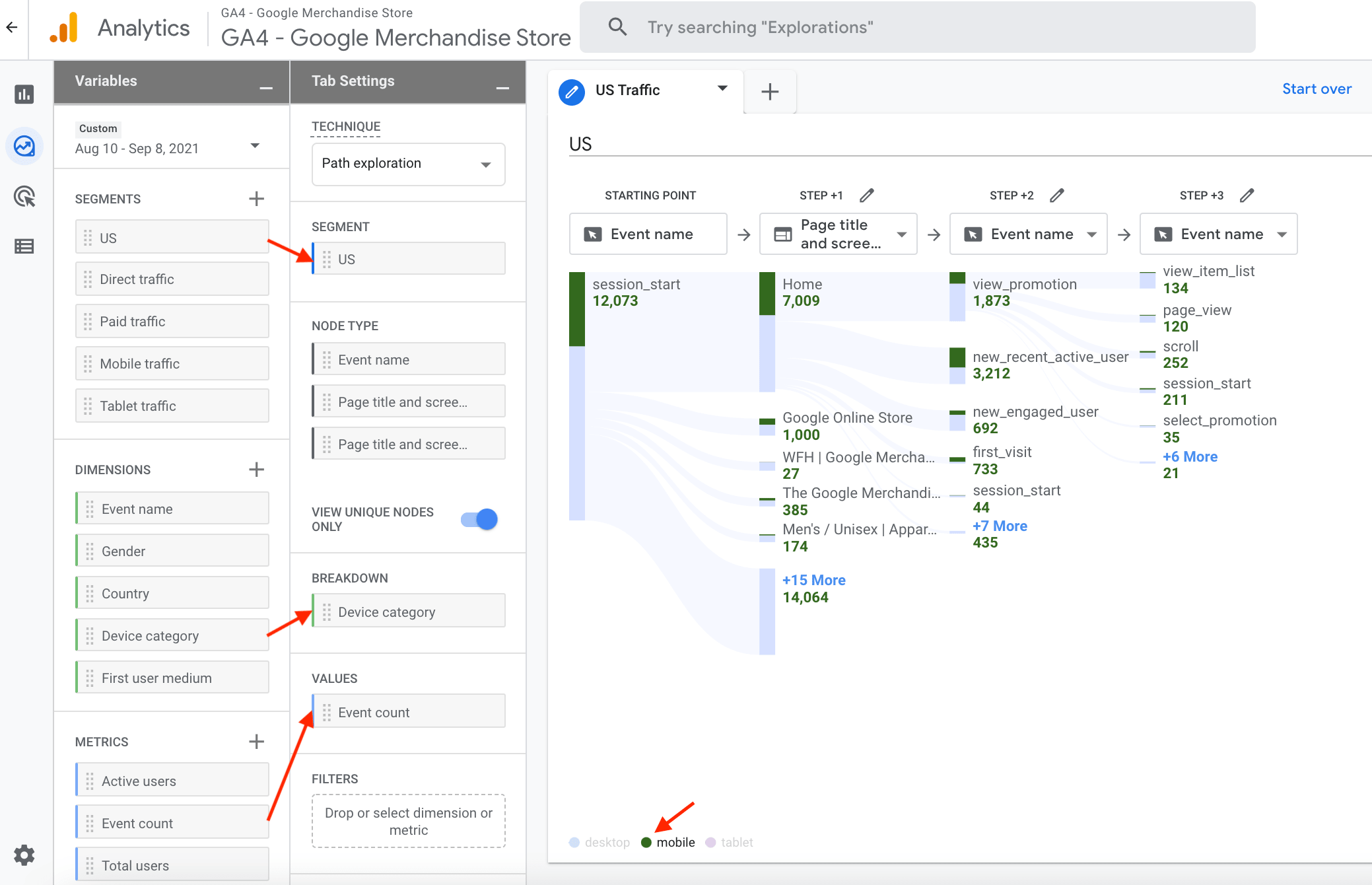 Google Analytics flow charts will help you find content that fails to keep visitors engaged. You can also use them to spot technical problems that make users move in circles struggling to achieve their goals on your website.
7. Do content distribution and link building bring referral traffic?
Search engines are not the only source of visitors you can leverage as an SEO specialist. You can generate a substantial volume of traffic from blogs, social media, review platforms, email campaigns, and forums by placing links to your pages on them. All the visitors arriving to your site through these links will count as referral traffic in Google Analytics. 
Universal Analytics: To see your top referral sources, go to the Referrals report from the All Traffic drop-down list under Acquisition . If you choose Source as the Primary Dimension , you'll see data by domains linking to your website.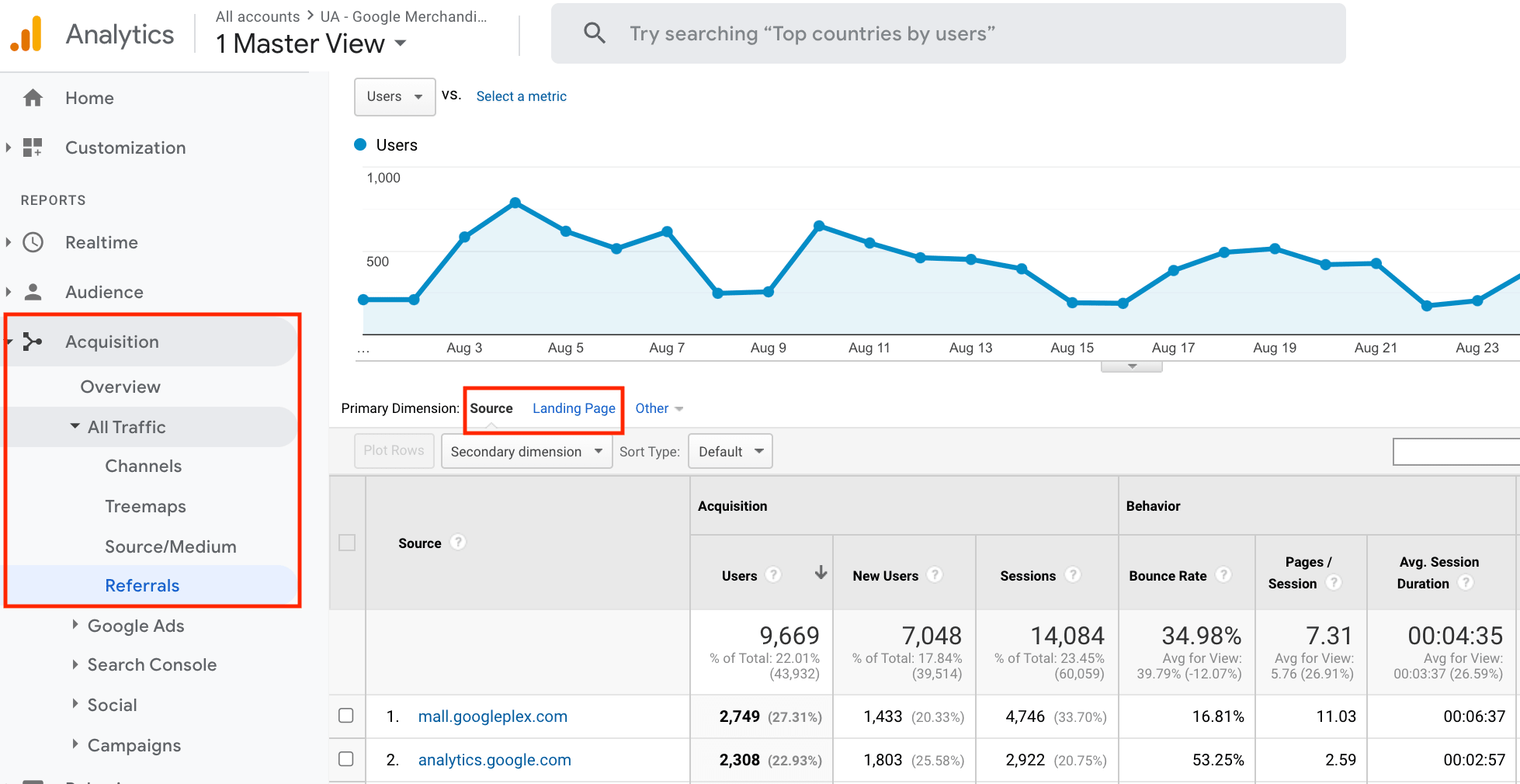 If you choose the Landing Pages dimension, you'll see your site's pages that collect the most referral traffic. This way, you can understand what type of content has the best potential to build links. For example, blog posts containing fresh industry statistics or results of unique research often collect a lot of backlinks.
Google Analytics 4: To see referral traffic, you should use the Traffic Acquisition report under Acquisition . Choose the Session source / Medium dimension and type "referral" in the search box to filter all sources of referral traffic in the table.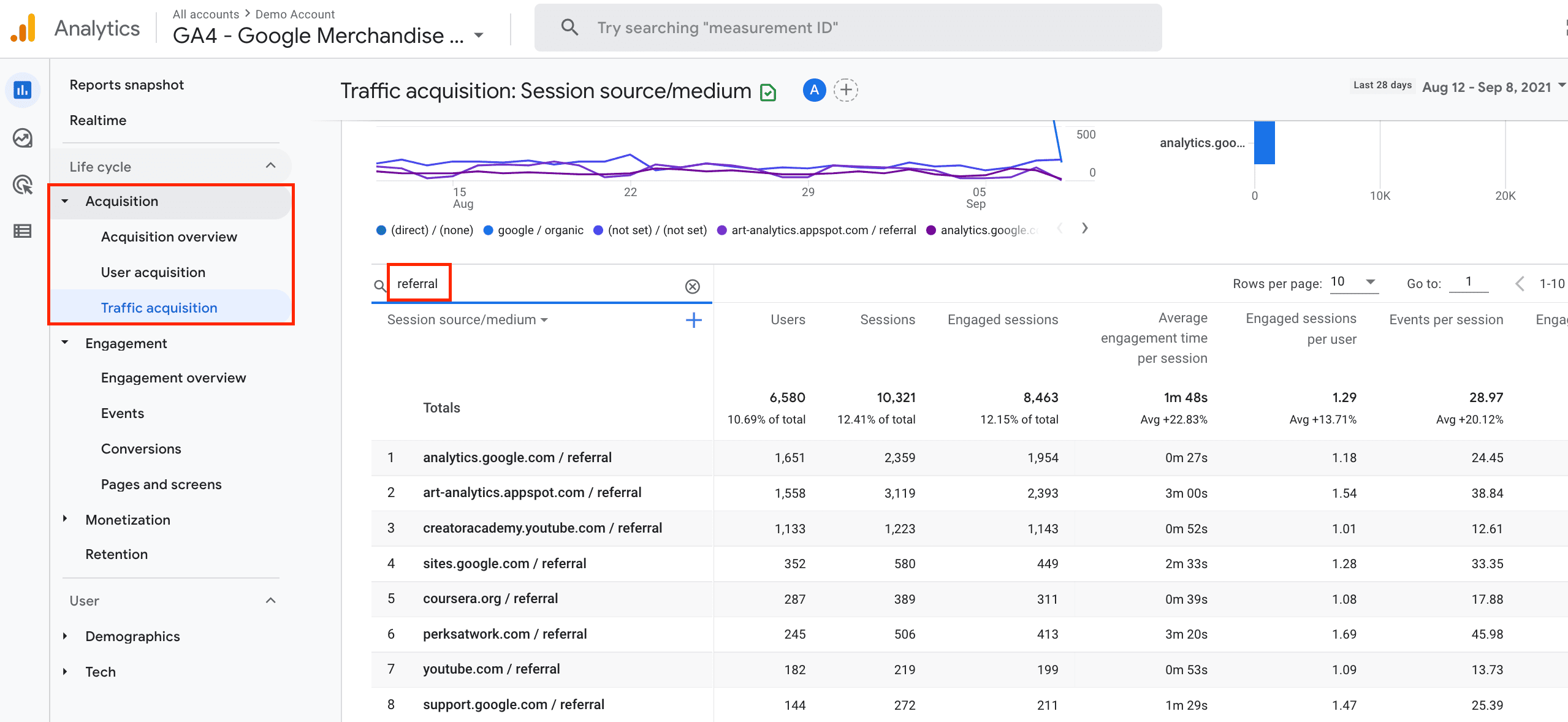 Seeing the amount of traffic from referring domains you'll be able to estimate if partnering with them brings the desired results. Good referral traffic proves that these websites have readers that belong to your target audience, which means you should publish more guest posts on them. You can also check if your guest posts generate more referral traffic after they were featured on the website's home page or promoted in their email campaigns. 
8. Can I segment data to get more granular insights?
Sometimes you'll want to analyze data for a particular group of users or sessions. You can do this in both UA and GA4, but should use segmenting wisely.
Universal Analytics: Say, you want to customize any standard report available on the left pane to see data for the organic traffic segment only. For this, you can click the default All Users tile on top of the report and choose the Organic Traffic segment instead. Your report will get updated and show data for visitors coming from organic search results.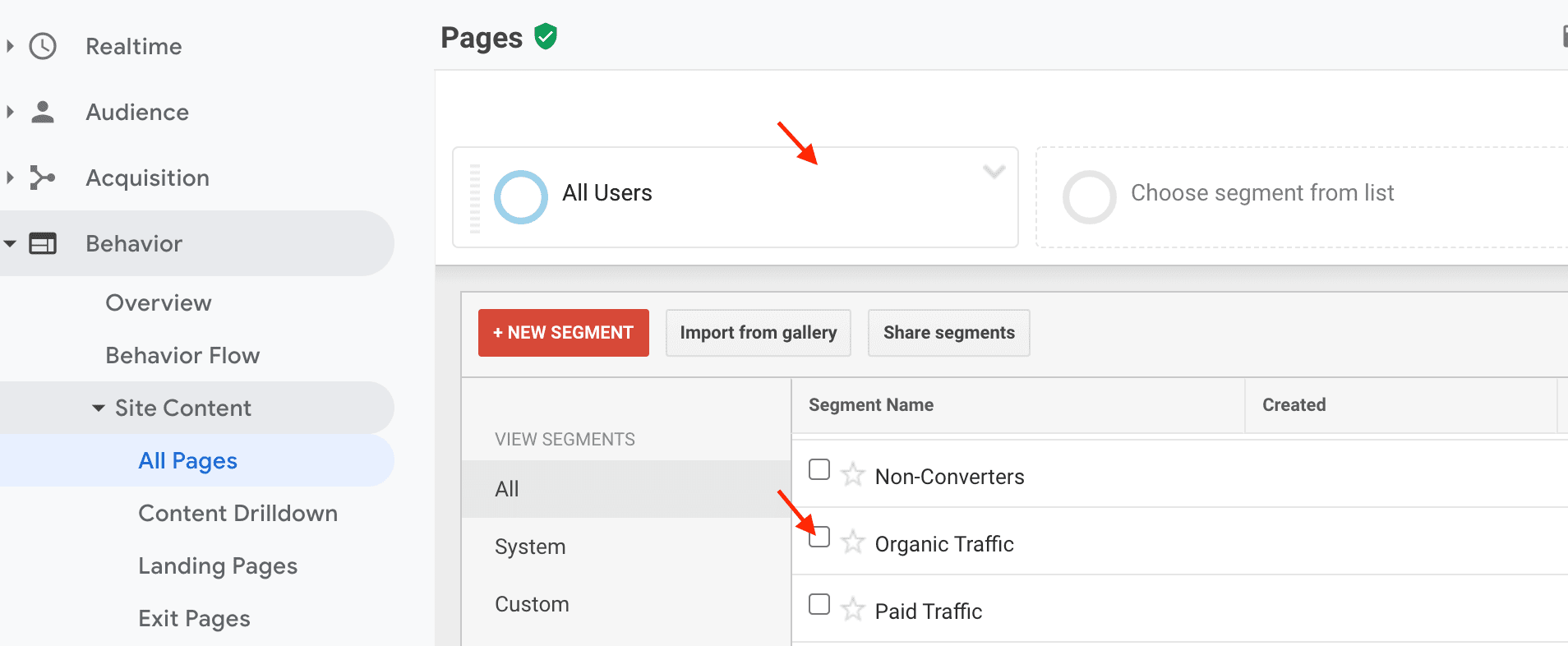 Although segmenting looks convenient, mind that it often decreases the accuracy of your reports in UA. It happens because UA applies sampling to reduce the processing speed for your custom reports. Especially true for segments that are complex or apply extensive time spans because they require processing huge amounts of data. 
Every time you create a segment, pay attention to the percentage of analyzed sessions to build the report. You can check it by clicking on the yellow shield sign indicating that the report is based on fewer than 100% of sessions.
For example, if you want to analyze organic traffic page-by-page, you can apply the Organic Traffic segment to the Landing Pages report from the Site Content drop-down list under Behavior . By doing so, you'll get a sampled report that can sometimes reflect about 30% of sessions or even less. In this case, sampling makes your report less reliable or even misleading.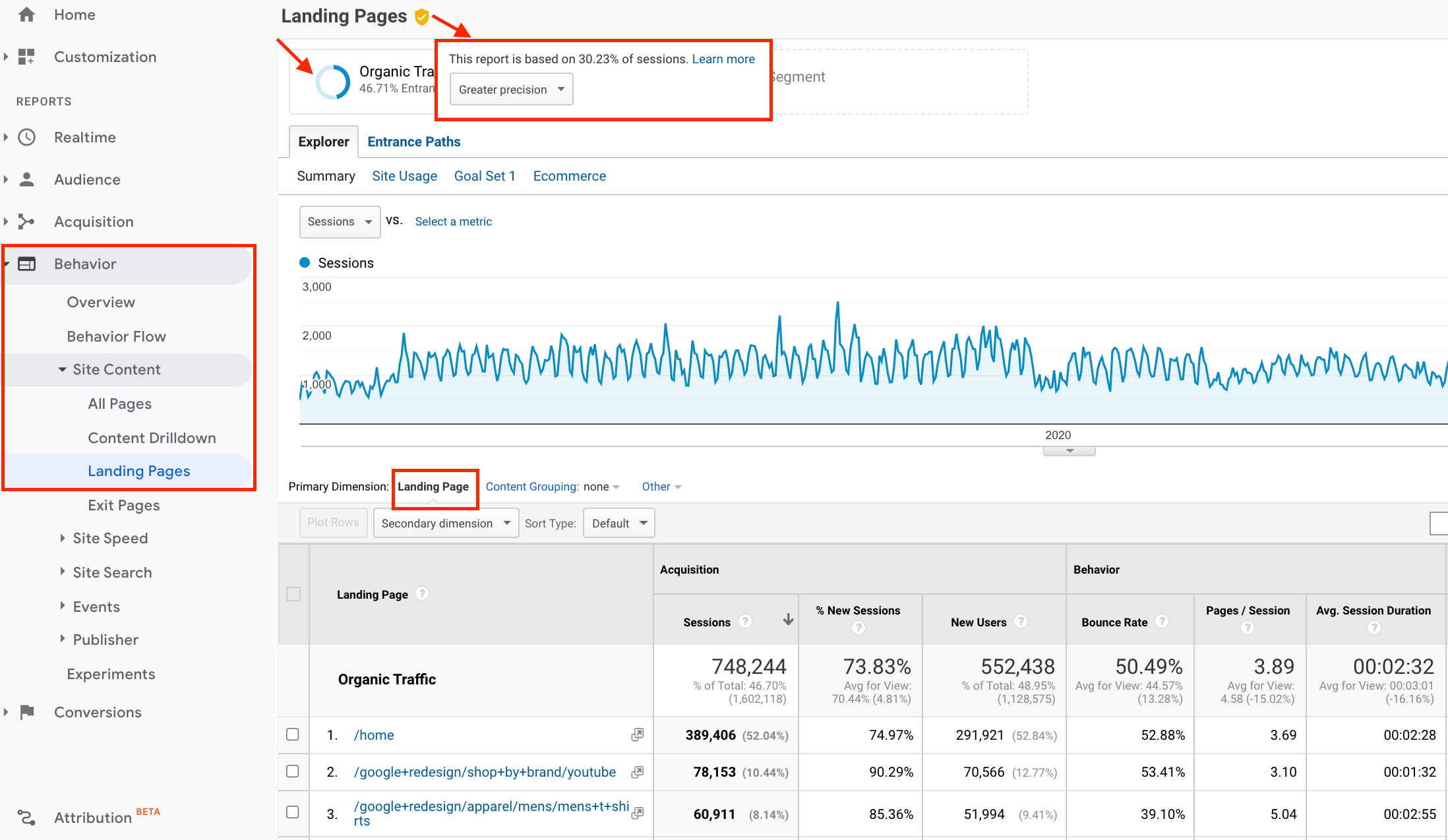 But there's a way to view the same stats on unsampled data. For this, you should go to the Channels report from the All Traffic drop-down list under Acquisition . Clean the segment settings to see data for All Users . Then, set the Landing page as a Primary Dimension . You'll be able to analyze the same type of report that is based on 100% of the sessions.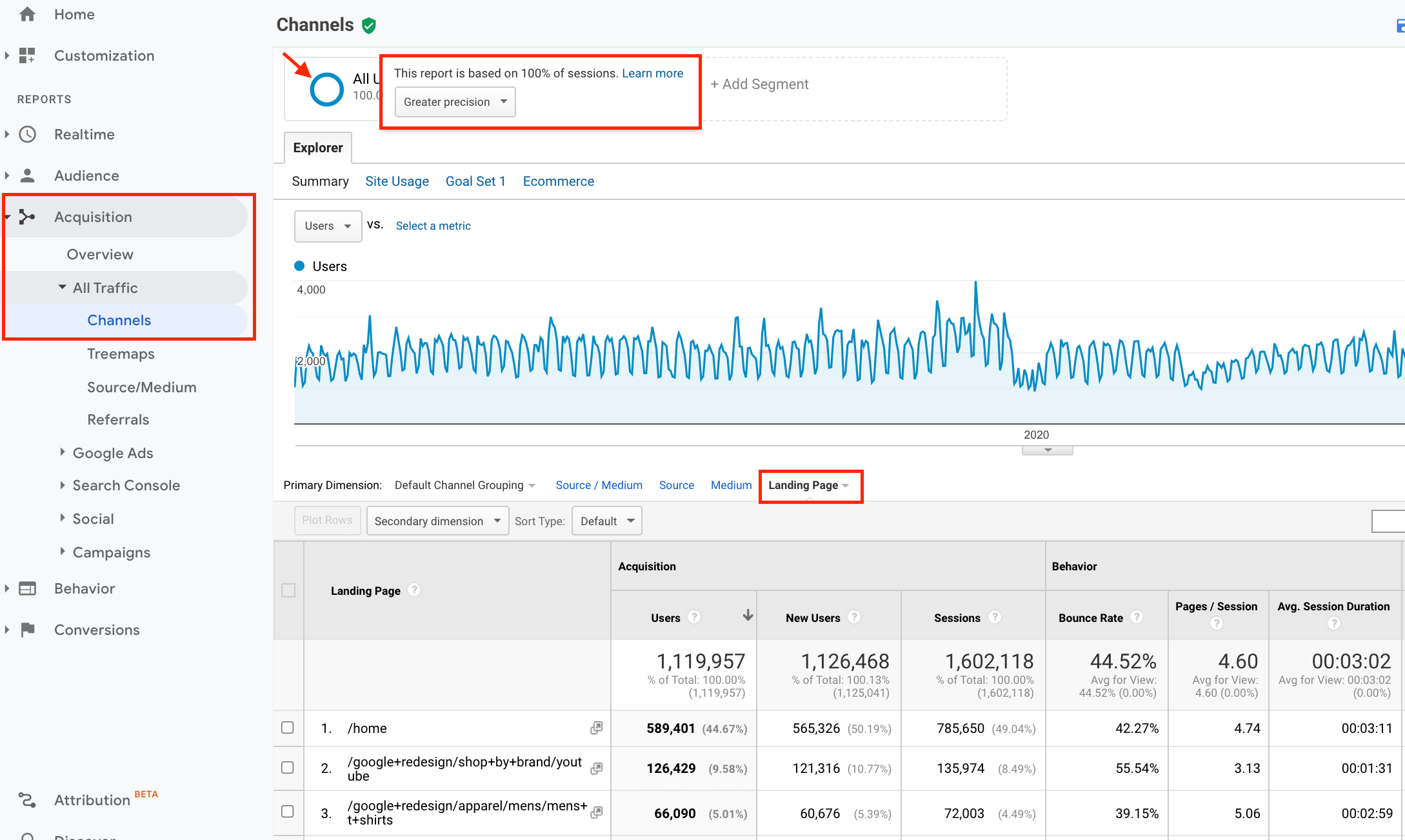 If there's no way to get the report you need without applying segments, strive to analyze data for smaller time spans. This will help minimize the negative impact of sampling and build reports based on 80%–90% of sessions.
Google Analytics 4: In GA4 you won't have any problems with data sampling because all reports in the new version are always built on 100% data. You can freely segment your reports to get granular data with no harm to accuracy. 
For example, if you want to analyze organic traffic you got from Google for a year, page-by-page, you can customize the Pages and Screens report under Engagement .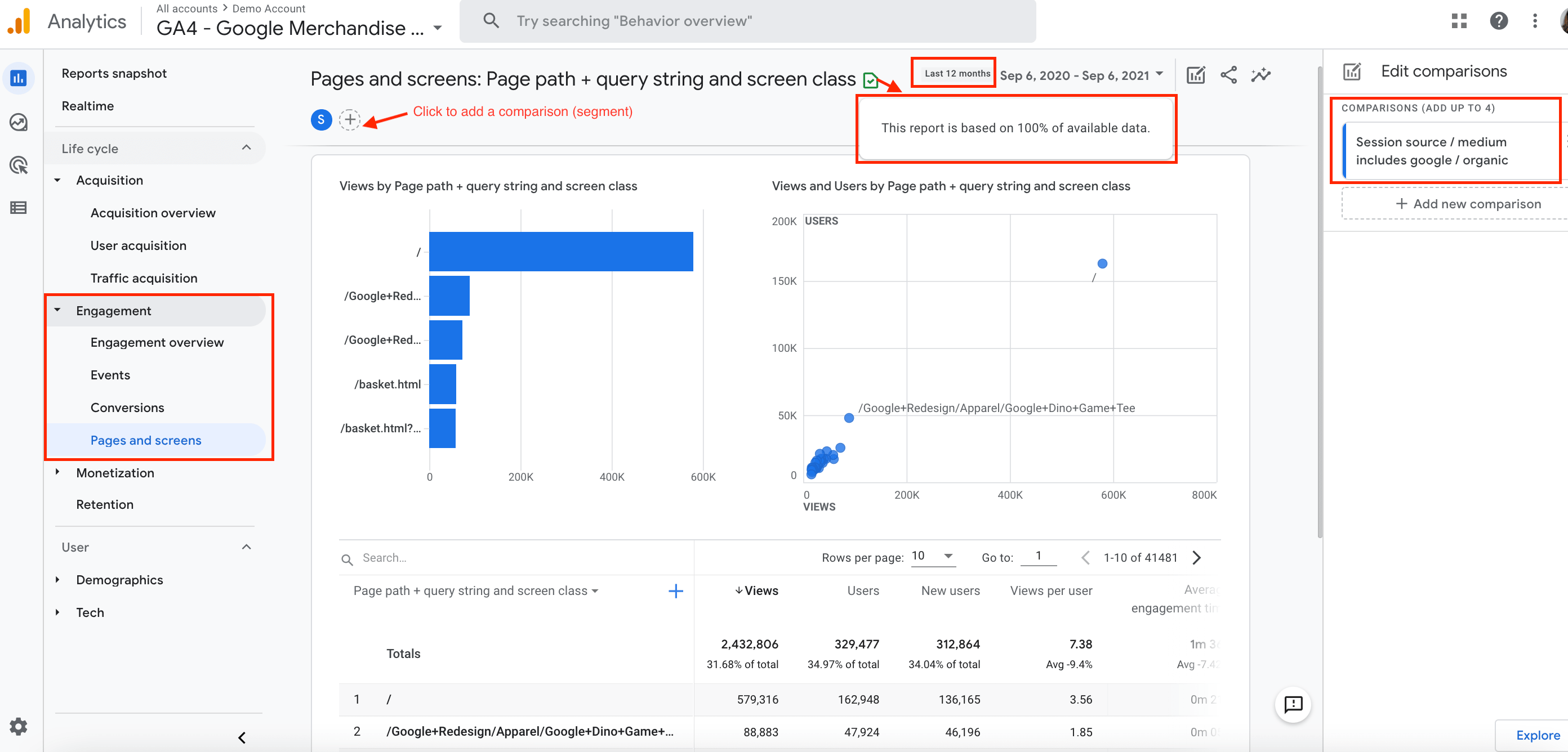 In the GA4 interface, you'll find the Comparison feature that works somewhat similar to Segments in UA. Click the plus icon on the top of your report and you'll be able to set conditions and dimensions for traffic segmenting. 
9. Can I see Search Console and Analytics data side-by-side? 
If you want to see how your pages perform in SERPs alongside on-page user behavior, you can do it only with your UA property. For this, connect your Search Console and Universal Analytics accounts to unlock several extra reports under the Search Console section of Google Analytics. 
Universal Analytics (only): Choose Landing Pages on the Search Console drop-down menu, under Acquisition . You'll have four columns in the table showing the number of impressions and clicks that pages get in the search along with their average position and Click Through Rate (CTR).
This report will help you timely spot content that needs updates or improvement as well as make hypotheses about how you can help it perform better. For example, if a page ranks high and gets a lot of impressions but has a low CTR and drives little traffic, the title and description might not be enticing enough to make people click. 
Another case is when a page gets a lot of clicks but the traffic bounces and doesn't convert. This may indicate that the page may have issues with design or load speed. If there are no technical issues, the content might be low-quality or irrelevant to what people were looking for.
10. Are there any technical issues with page load or design?
One of the reasons that may stop your organic site visitors from converting is a poor user experience. Low page load speed or design issues on mobile devices can make people bounce from your pages.
Universal Analytics: Navigate around the UA interface and you'll find some tech-related data here and there. The group of Site Speed reports under the Behavior section will show you what pages don't pass the 3-second threshold for Page Load Time and give additional insights into your servers' performance.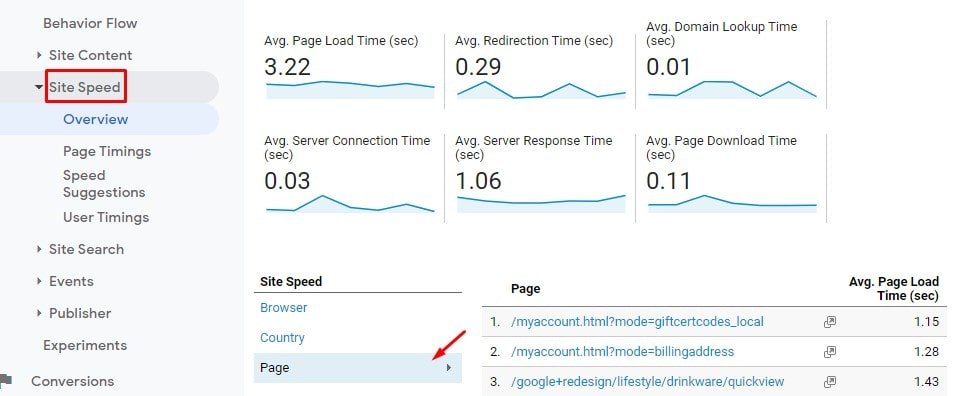 The Browser & OS report from the Technology group, under the Audience section, will help you analyze how people who use different operating systems engage with your website. 

The Mobile Overview report under Audience will help you compare your website performance on desktop, mobile, and tablet devices. With Google's Mobile-First Indexing, you should make sure people enjoy browsing your website on their smartphones.

Google Analytics 4: It's even more convenient to control the technical performance of your website in the new version of Analytics. You'll quickly spot technical issues harming user engagement in the reports grouped under the Tech section. Just select the dimension of your interest from the dropdown list.

11. Is our content relevant and good enough for users?
This is a tough question even for Google Analytics. It offers a range of engagement metrics that may help you evaluate the quality of your content. Yet, you should be careful with these metrics as they can easily be misinterpreted.
Universal Analytics: You can see bounce rates, the number of pages visited per session, average time on a page, or the number of exits at almost every report. You can analyze these metrics by page, channel, device, etc. Moreover, UA has Site Content reports under the Behavior section showing how users interact with your content.

But let's go through several pitfalls of the UA behavior metrics and ways to cope with them:
Bounce rate . By default, any single-page session is considered by GA to be a bounce without taking into account the time spent on the page or conversions made on it. To see the true bounce rate, you'll need to adjust your tracking code to exclude single-page sessions with minimum sufficient engagement from the rate. 
On-page time . The trickiest part about this metric is figuring out the time needed for a user to substantially engage with your pages. Knowing the threshold will give you a clue as to what on-page time you should consider good or bad. One way to learn this is by analyzing sessions that led to conversions to see the time it takes for the majority of your visitors to convert.
Exit rate . You have some pages on your website where the user journey ends naturally. This means that for some pages having high exit rates is normal rather than negative. You should take this into account and consider the Exit Pages report with completed conversions in mind.
If you'd like to have a deeper look into these metrics, read our article about the difference between bounce rate and exit rate metrics. There you'll find a more detailed explanation about how to adjust bounce rate measurement and interpret exit rates depending on the page context. 
Google Analytics 4: Since behavior metrics have proven to be the most questionable in UA, Google decided to reconsider the approach to measuring Engagement in the GA4 version. Luckily, the overall shift from session-based measurement to event-based measurement has made this change possible. GA4 has an Engagement module that includes the Pages and Screens report, which is an analogy to the All Pages report in UA.

In GA4 you can track new metrics, such as Engagement Rate, User Engagement, Engaged Sessions, Average Engagement Time per Session, and more. You can even collect all engagement metrics in a separate custom report to have them at hand without switching from one report to another. For this, you'll have to go to the Explorations workspace.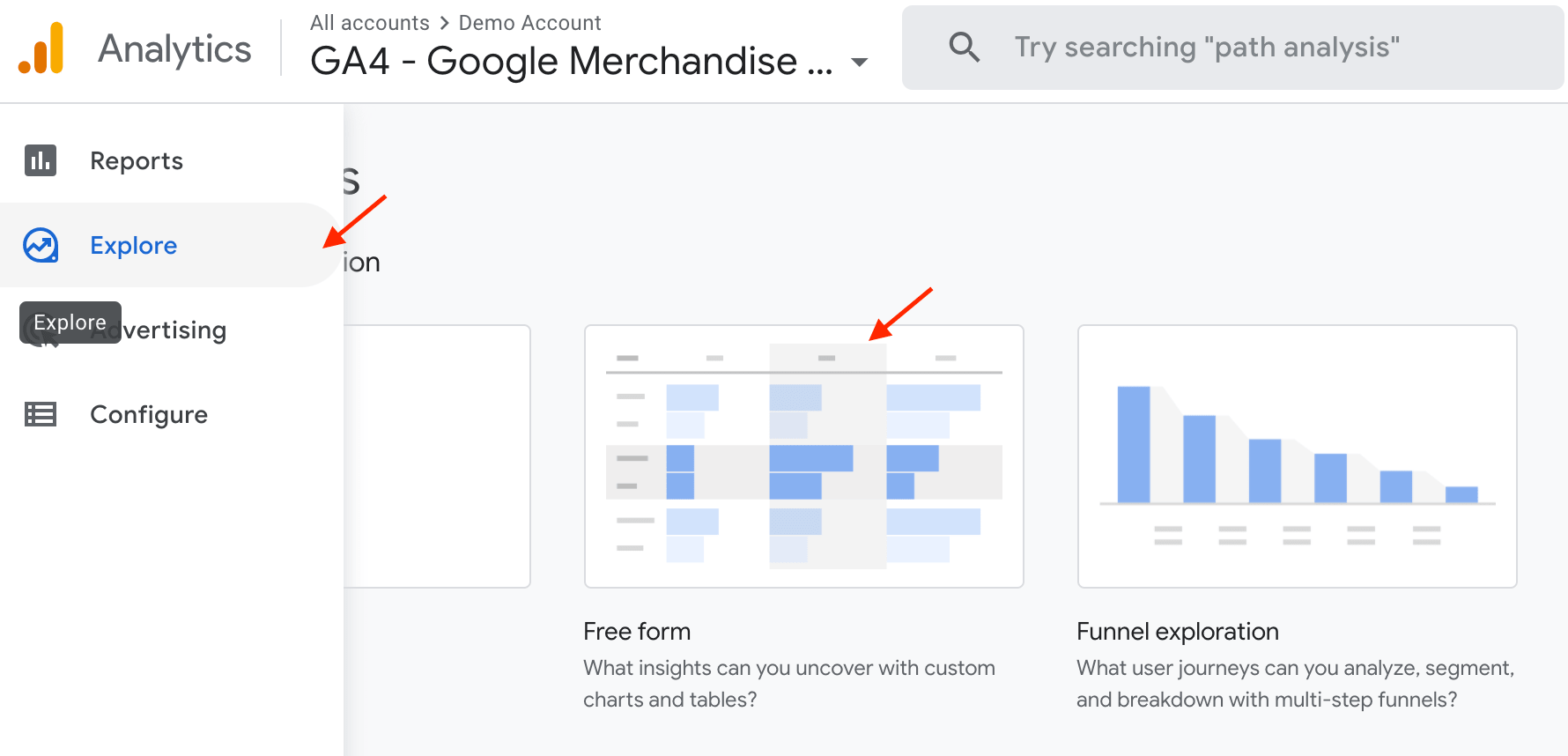 Under Explore , you'll need to create a new Free Form exploration that will show the engagement metrics in a chart page-by-page. For this, select the page path dimension for Rows and add all the engagement metrics as Values .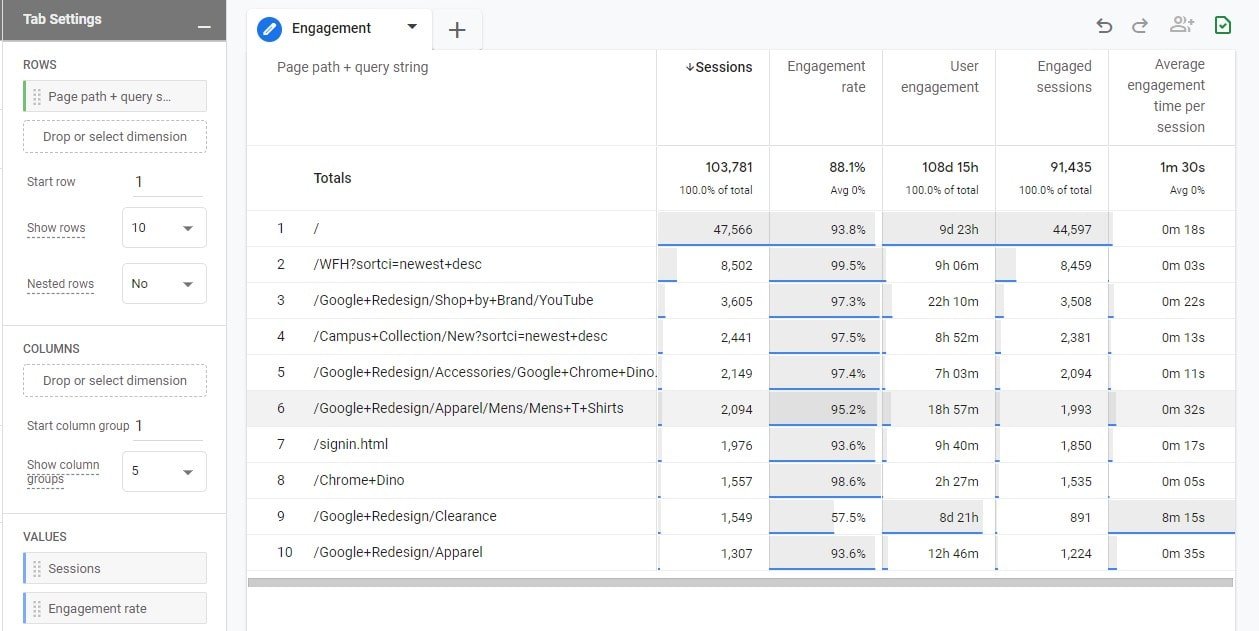 To everyone's delight, Bounce Rate doesn't exist in GA4 at all. It allows measuring the Engagement Rate instead. The Engagement Rate represents the ratio of Engaged Sessions to All Sessions multiplied by 100 (%), where Engaged Sessions include those that either included two or more page views, or had a conversion event, or lasted longer than 10 seconds. If, in your case, the default 10 seconds don't represent substantial engagement time, you can set up a different time span in settings.
12. Can I view SEO data from GA in a convenient dashboard?
Having used Analytics for some time, you'll come up with a particular workflow for checking reports and doing SEO data analysis. You'll navigate quickly in the interface and know what report to open and how to configure it. 
Still, going from one tab to another, applying filters or segments every time to extract the data you need is time-consuming. Isn't it better to get all your SEO analytics questions answered at a glance on a convenient dashboard?
Google Analytics allows you to set up custom dashboards that'll aggregate pieces of data from different reports. You can do it either by using built-in features, namely Dashboards in UA and Explorations in GA4, or exporting data into Data Studio.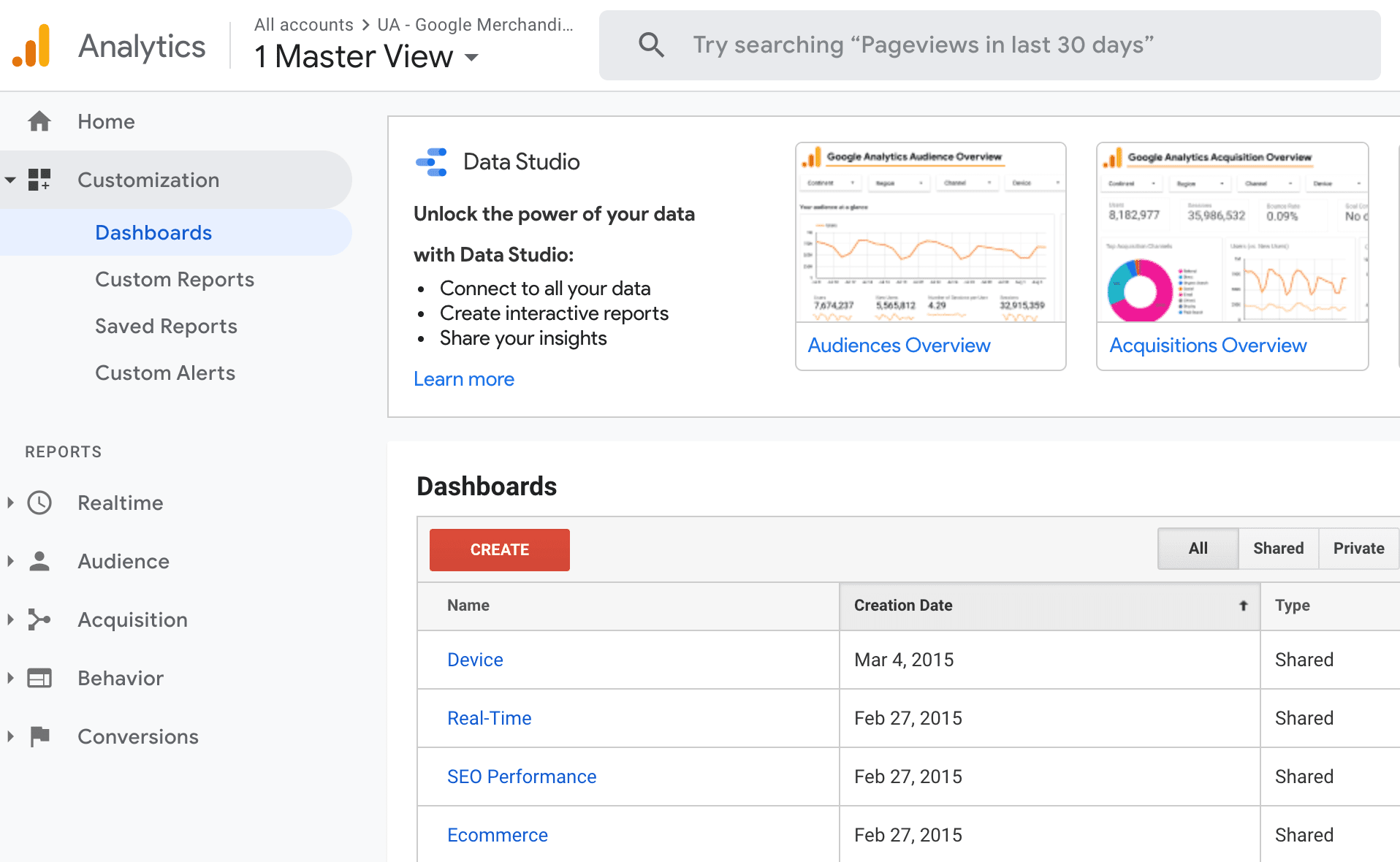 But there's an even better option. You can source data from Google Analytics right into the SEO tool you use to track SEO rankings. For example, 2022世界杯买球平台 integrates with Google Analytics and allows you to view your key data in a convenient Overview dashboard, under the Analytics & Traffic section.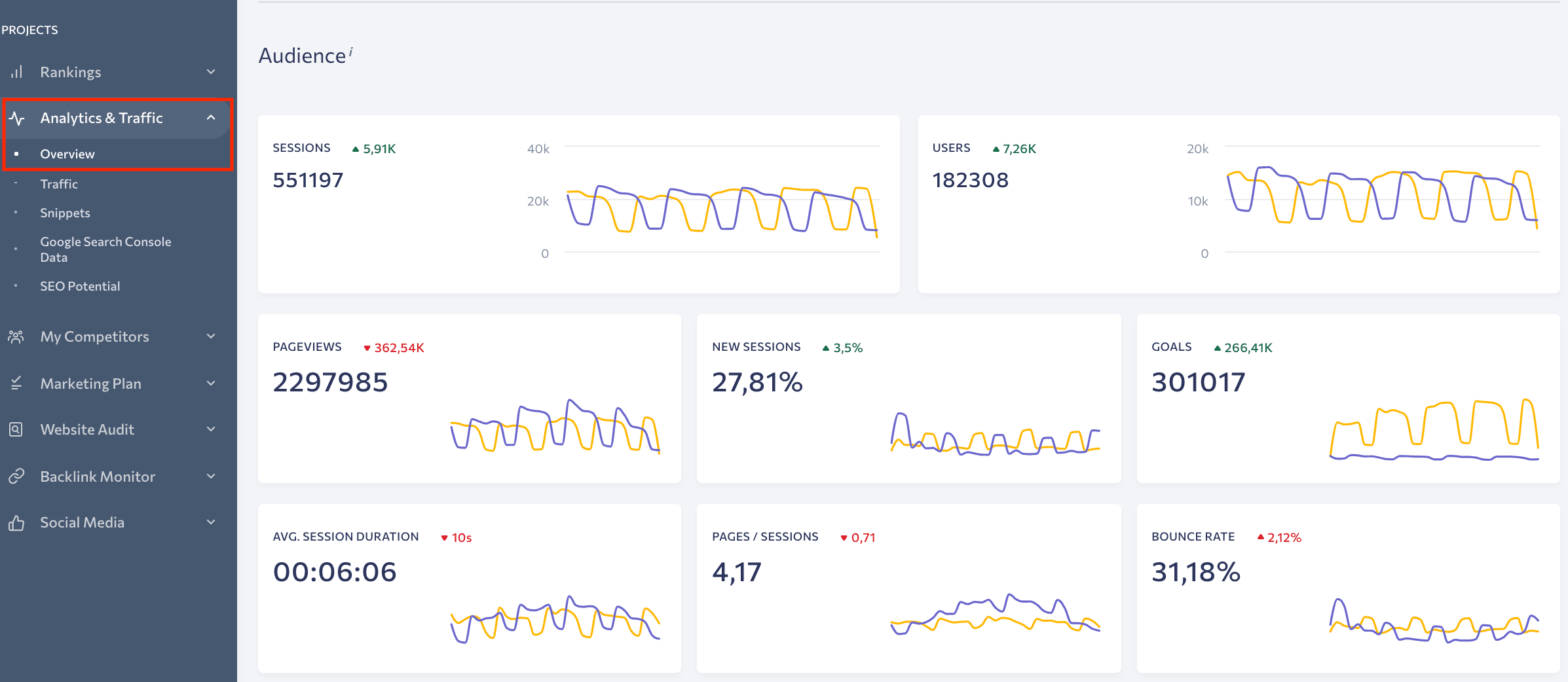 The Traffic dashboards under the Analytics & Traffic section allow you to go more granular. Navigate between tabs to analyze traffic from different sources, study your website audience, monitor SEO performance metrics page-by-page, and keep an eye on conversions.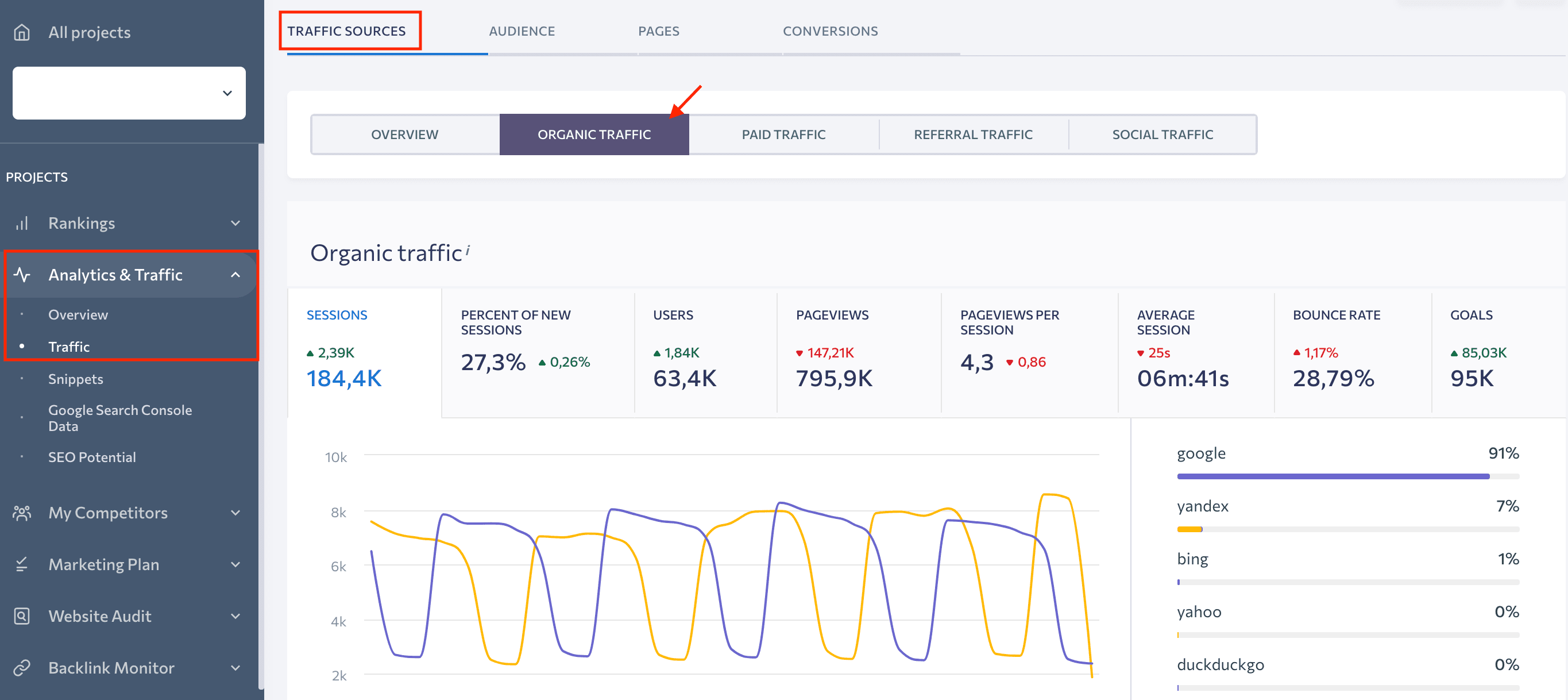 Apart from viewing your SEO Google Analytics data in 2022世界杯买球平台 , you can also include it in your SEO reports for clients using Report Builder . Just drag and drop items from the Analytics & Traffic section to get the desired data automatically loaded into your report. This way, you'll create more comprehensive and visually appealing reports with less effort.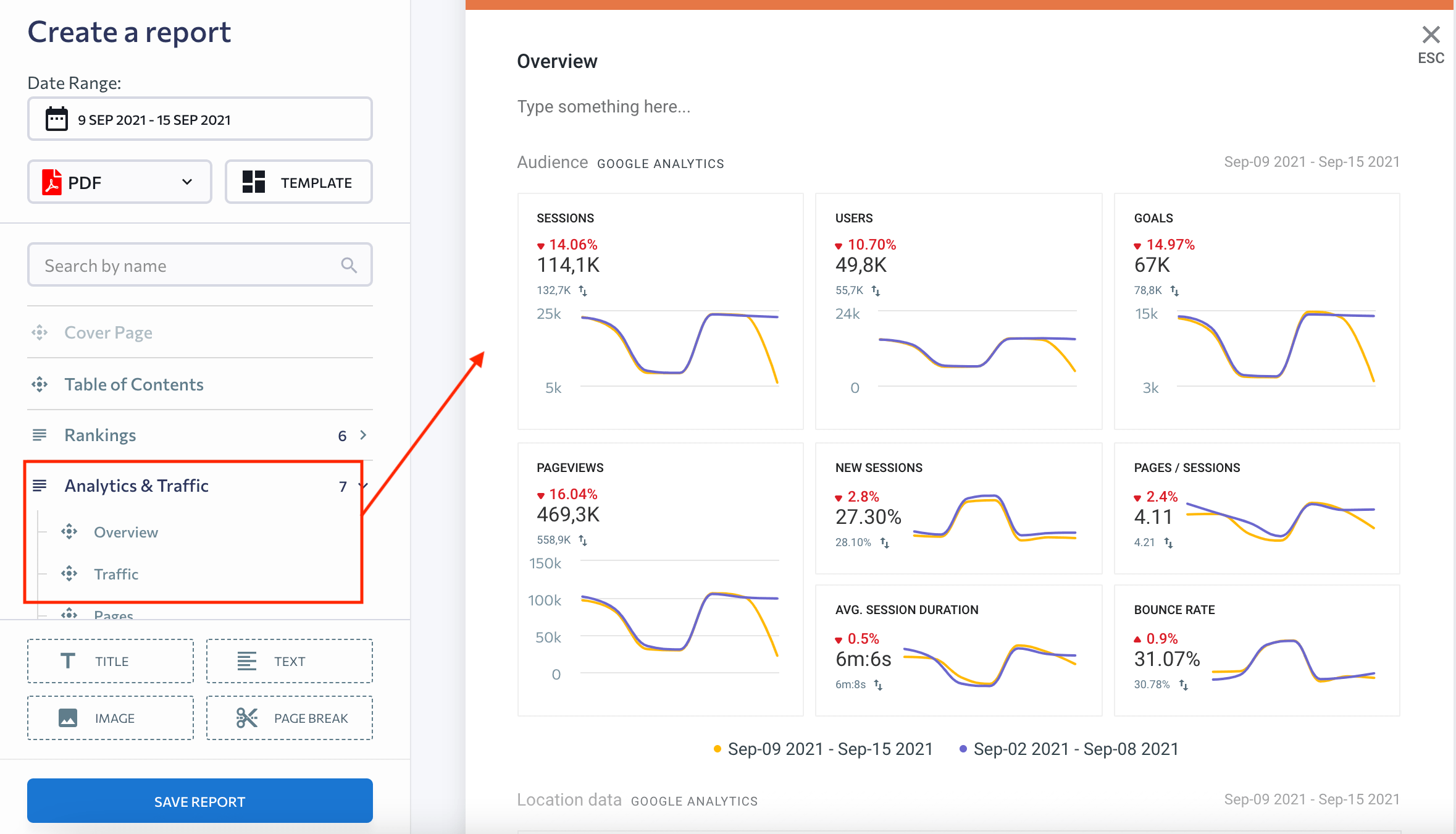 To get your Google Analytics data flowing to 2022世界杯买球平台 , you can connect it in a couple of clicks when you create a new project in 2022世界杯买球平台 or any time after. This integration will simplify your SEO analytics and reporting tasks. Why don't you give it a go with 2022世界杯买球平台 14-day free trial ?  
Approach Google Analytics wisely!
You can hardly get a complete understanding of your SEO results without knowing how to use Google Analytics. It will help you check if you're taking the right SEO steps for a new website and adjust your strategies and tactics at later stages. Yet, you should know what reports to look at and how to interpret data correctly. 
All of this means that you should approach Google Analytics in the following way:
Make hypotheses about your whole SEO strategy success and every particular page performance. 
Formulate questions that will help you clarify where you're standing. 
Configure GA reports that will answer your questions with data and provide actionable insights.
Act, observe the changes, and measure your results.
By using data from GA to justify your actions for SEO, you'll build trust with your clients and prove SEO is worth investment. If you have your own hacks on using Google Analytics for SEO, share them with us in the comments.